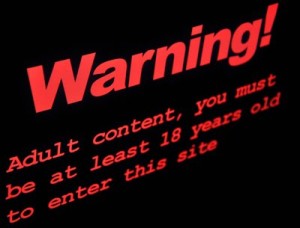 A couple of weeks ago I was in the car with my 17-year-old son Nate and one of his classmates. It was early on a Saturday morning and we were driving to a lacrosse tournament on a road north of Harrisburg here near our Central Pennsylvania home. At one point we hit a several mile stretch that serves as a window into a dark – yet increasingly acceptable and rapidly growing – part of our culture. Along the road stood a dozen or more "gentlemens' clubs" and "adult" stores. I couldn't help but look at the snoozing teenagers in my car and wonder how growing up in a world like this would shape them, their relationships, and their families during the course of their lives.
Perhaps you've heard me mention before that I wasn't exposed to pornography until I was 12-years-old. A friend had found a magazine along the side of the road (or so he said) and we eagerly and secretly engaged in what was (without us even knowing it) a watershed moment in our lives, as our understanding of God's good gift of sexuality was distorted in ways that we could never go back and erase. Growing up in today's world is very different. Declining standards of morality, moral relativism, and the development of the Internet and other digital technologies have created a situation where curious kids and adults can willingly roam into this dark world to find things that will not only destroy their lives, but the lives of those around them. It's also a world where even those who don't go looking for it are "found" by it.
Because the dark world of Internet pornography is growing minute-by-minute, accurate up-to-date statistics are hard to find. But consider these facts on Internet pornography that were recently released by OnlineMBA (see the graphic below):
• 12% of all Internet websites are pornographic. That's 24,644,172 sites.
• Every second, almost 30,000 Internet users are viewing pornography.
• 70% of all men ages 18 to 24 visit porn sites in a typical month.
• 1 in 3 porn viewers are women, and that number is steadily rising.
• 68 million daily search engine requests (that's 25%) are pornography related.
• 34% of all Internet users have experienced unwanted exposure to pornography.
• The average age at which a child first sees pornography online is 11.
• The most popular day of the week for viewing pornography is Sunday.
• The overwhelming majority of children (90%) ages 11 to 16 have viewed pornography on the Internet.
As a follower of Jesus who studies youth culture, I've spent lots of time thinking about the cultural realities and circumstances that are fueling these trends, along with how the decisions people are making will effect both them and our society down the road. Because the digital/Internet generation hasn't yet come of age, we can only speculate as to what the fall-out will be. But research has shown that exposure to pornography effects children and teens in the following ways:
• An exaggerated perception of sexual activity in society (or, the belief that "everyone's doing it" and "this is normal.")
• The abandonment of the hope of sexual monogamy.
• Belief that promiscuity is the natural state.
• Belief that abstinence and sexual inactivity are unhealthy.
• Belief that marriage is sexually confining.
• Lack of attraction to family and child-raising.
• Lasting negative or traumatic emotional responses.
• Earlier onset of first sexual intercourse.
• The commoditization of sex and the objectification of humans.
• Increased acceptance of sexual perversions including bestiality, group sex, etc.
(Jill Manning's testimony before the Senate, Nov. 10, 2005; Dolf Zillman in the Journal of Adolescent Health, August 2000)
I'm increasingly convinced that we can't just sit back and do nothing. The proper God-glorifying response to these cultural realities must include the prophetic (proclaiming God's liberating Word about all of life, including our sexuality), the preventive (developing strategies to prepare kids to respond to the sexual pressures they are bound to face in ways that are pleasing to God), and the redemptive (showing restorative grace as we lead the sexually-broken to hope and healing).
Over the past few months, God has been burdening me with the need for a response from CPYU. While I don't know what form this will take, I do know that the time for it to happen is now. For this reason I'm asking you simply join with me in praying about what this all means for CPYU.
Finally, I know that these are not just problems occurring "out there." All of us know people who are struggling with pornography issues. Some have been caught. Some have confessed. Some are still suffering in silence. For that reason, I've linked to a very helpful and straightforward article from Nicholas Black and our friends at Harvest USA, a ministry to the sexually-broken. The article is entitled "How and Why Pornography Hurts a Marriage."
What are you doing to address these issues with the kids you know and love?