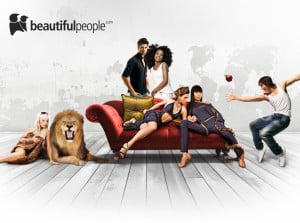 This is not only what we've come to, but where we're still going. . . and it's going to destroy us. While we've been made to pursue the deep things of God, we've somehow bought the lie that we're to pursue and tend to that which is on the surface, specifically, our appearance. Those who promote beauty and anti-aging products hardly have to work to catch our attention anymore. Instead, we're so obsessed with undoing the effects of time and gravity – a fruitless pursuit that nobody has ever succeeded at, by the way – that we are constantly looking for them.
Both immoral and ridiculously absurd, this pursuit and worship of all things culturally beautiful was on my mind again this morning as I read about something new from the folks at Beautifulpeople.com – a web community that if I joined, I'd be voted out of in no time. If you aren't already aware of this virtual meat-fest, it's a place where you are rated and voted off if your looks don't measure up. Now, the site's 600,000 members are able to search a virtual sperm and egg bank as part of the community's effort to populate the world with beautiful people. As an added bonus, even ugly people can sign up and make a withdrawal if they want to redeem and steer their own genetic tendencies away from the ugly and to the better-looking. One news outlet reports that the site's founder Robert Hintze said: "Initially, we hesitated to widen the offering to non-beautiful people. But everyone — including ugly people — would like to bring good looking children in to the world, and we can't be selfish with our attractive gene pool." Wow, that is so generous! Sadly, something about all this sounds eerily familiar to some stuff a horrible group of people in Europe were pursuing seventy to eighty years ago.
One of the greatest and least understood cultural threats to deep faith and true worship of God is the narcissistic tendency to focus on ourselves. . . and to focus at a level that's only skin-deep. It's epidemic in youth culture. It's epidemic in adult culture. Perhaps it's time to take a more serious look at a couple of things. . . first, a look into the Word for some accurate, proper, and right perspective, and then second, into our own faces and hearts to see where we've bought the lies. Yep, it's even in the church. . . big time. Perhaps a look at what we daydream about, what we spend our money on, and where we spend our time would yield some not-so-pleasant but oh-so-necessary revelations about who we really are. Our kids need to be taught these skills as well.
Could it be that "blessed are the ugly" . . . . ?