There's nothing wrong with shaving your head. . . except maybe for me with my knobby skull. There's nothing wrong with complementing your bald head with a well-manicured goatee. But a few years ago, I noticed that as I would look out over rooms full of youth workers, it appeared that some kind of conspiracy was brewing and I had been left out. There were bald heads and goatees everywhere – on the men in the room that is. I was curious about this phenomena that was making it hard for me to tell people apart. In discussions with observant peers, some of us began to jokingly wonder if this wasn't some kind of attempt on the part of some (certainly not all) to increase their cool factor and somehow become more relevant. What was a initially a joke is in reality – I believe – true for some, not all.
Over the years, I've sometimes referenced these observations as a prelude to talking about cultural relevance. Because I study youth culture for the sake of effective cross-cultural work with kids, many people are surprised to find out that I oftentimes try to squelch our (the church) growing love affair and obsession with relevance. I think we need to stand back and take a long, hard objective look at ourselves and our ministries to see just what this pursuit of relevance might not only be doing to us, but doing to actually hinder the advance of the Gospel message . . . the noble desire and calling that has made us pursue relevance so passionately in the first place. A misdirected passion for relevance has fostered the increased use of the word "reinvent" when it comes to ourselves and our ministries. We run the risk of unintentionally allowing an obsession with style to eclipse what should be a passionate obsession with substance. Sadly, when we fall into it, we don't even know that this is what's happened. Eventually, our lives and ministries become a series of extreme makeovers, with the short time in between each filled not with more and more reflection on the substance of the message, but with trying to keep up with the styles so that we're ready to jump when the next change is need. . . something which is happening with increased frequently as time marches on.
It's for this reason that I've been speaking more and more about the seemingly subtle yet significant differences between pursuing lives and ministries marked by being culturally relevant, and lives and ministries marked by being culturally informed. Being culturally informed – regardless of my age, shape, size, or hairstyle – means that I have taken the time to listen to another and their context. It means that I know them. It means that when I open my mouth to speak – regardless of whether or not that mouth is framed by a goatee – the person I am speaking to will know that I have listened to and cared for them. Then, they will be more prone to listen to what I have to say. We call this "relationship."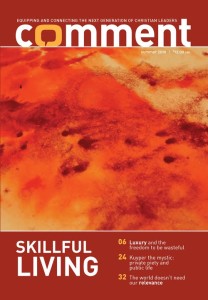 Yesterday this issue came alive in new ways for me as I opened my Summer 2010 edition of Comment Magazine – a magazine every one of you should subscribe to by the way. I literally got chills as I read the first twenty or so lines of one of the absolute best and well-written articles I have read in many, many years.
Here's what Jedd Medefind writes in those first two paragraphs of his article, "What The World Needs Most Is Not Our Relevance":
"Perhaps more than any single attribute, today's Christians desire to be relevant: listened to, respected, wanted in the room. In contrast to those bunker-mentality Christians of yore, we yearn to swim in the currents of our time, converse in its tones, and thus help to shape its character. . . .
What the world needs most from us, however, is not mere relevance. Nor has it any age. The most vibrant moments of Christian history are those in which believers chose a prophetic role – even to the loss of perceived relevance. There's no need to don camel hair robes just yet, but it may be time to rethink our passion for relevance, and whether we'd be willing to trade it or something higher and bolder."
Later on, Medefind writes, "Love of relevance can blind us to things we ought to critique and numb us to things from which we ought to recoil. It can stand as our primary measure of success, often subconsciously, replacing the cultivation of deeper virtues. Its pursuit can consume vast time and resources that God may have given us for other purposes. And once possessed, relevance can prompt us to sacrifice almost anything rather than part with it. Because relevance tends to mirror the trends and values of its culture, it can rarely offer society anything that it doesn't already have – including its prejudices, excesses, and mistaken assumptions."
Medefind makes a strong and convincing case for us to embrace the polar opposite of relevance – the prophetic. It's the prophetic voice, he says, that offers the things society most lacks. Our number one ally in cultivating the prophetic? Medefind points to the right place – Scripture. He adds to that solitude, mentors from other eras, global accountability, and a few good friends.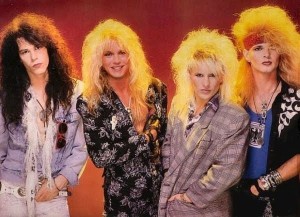 I love the way Medefind ends his article: "In the long view of history, mere relevance – attractive as it may have looked in its own day – simply cannot compare. It is no more desirable that the feathered hair of a 1980s pop star. Eventually, we always come to see the remarkable truth: the prophetic voice is the only one that was truly relevant after all."
This article is timely, brilliant, and prophetic. You have to get it and read it. Now, think about you, your ministry, your church, the church in America. What needs to change?