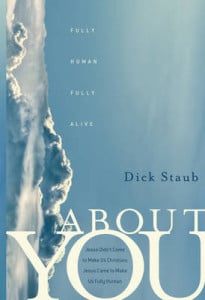 The pile of books "to be read" in my office just keeps getting bigger and bigger. . . frustratingly big in fact! Every once in a while a new book darkens the doorway that I allow to jump to the front of the line, or top of the pile as it were. A couple of weeks ago one of those books showed up and I devoured it quickly. It never even made it to the pile. . . I just took it home and started reading.
It's a book by Dick Staub, a friend whose past books (Too Christian and Too Pagan, and The Culturally Savvy Christian)I've made required reading for students in classes I've taught. The feedback is pretty consistent – things like "thanks for making me read that book" and "that book was a life-changer for me." Staub's latest offering, About You – Fully Human Fully Alive, is good reading I'm "assigning" to anyone who reads this blog. It's good reading because it's filled with good writing that shatters some of the myths we've come to believe about God and ourselves, while offering a clear corrective regarding the ways things are and ought to be.
The book's cover is sure to attract attention from both Christians who think they know what being a Christian is all about, and non-believers who know Christians who have erroneously communicated what being a Christian is all about. Those facts hit readers when they spot this thought-provoking quote on the cover: "Jesus didn't come to make us Christian; Jesus came to make us fully human," words penned by Hans Rookmaker, a hero of the faith Staub and I share. Those words capture a reality that's so much bigger and better than what we've come to accept.
Rooted in the context of the unfolding Biblical drama of Creation, Fall, and Redemption, About You takes readers on a journey to discover what it means to be fully human, fully alive, and how to get there. This isn't a book about getting saved. This is a book about rediscovering the purpose, meaning, and shalom of life in the Garden. . . the echo of which haunts us all in our brokenness. About You engages both the saved and the seeker, leading them down the path to understanding one's self and all of life in the role we've been made to play in that great drama. It's a book about restoration that will open your eyes to who you were made to be and how to get there once again.
Thanks Dick, for making this all so clear and compelling.