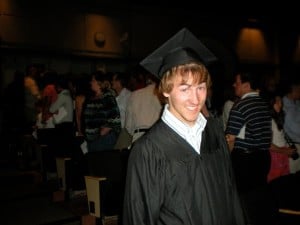 One of the first things Rich Van Pelt said to me last week when I saw him in Nashville was this – "Pray for Wes Evans." I don't know Wes, but I'm praying for him along with his father Jon, mother Jo, and sister Shelby. I want to ask you to pray for Wes and his family in this hour of deep, deep need.
Wes is a 19-year-old who spent last summer working at Noah's Ark Rafting in Colorado. Many of you are familiar with this great organization. Currently, Wes is a student at Colorado Mountain College in Breckenridge, Colorado. He loves the outdoors and is majoring in Outdoor Education. On Friday, November 19, Wes was in a serious skiing accident, hitting a tree with his head. This last Friday, Wes's doctor told him parents that Wes is "the sickest person in Colorado."
Like I said, I never met Wes or his family. I feel a tie because of Rich, and because they are brothers and sisters in Christ. I feel a tie because I am a father. I feel a tie because his father, Jon, is one of us. . . a youth pastor. I feel a tie because Jon is the youth pastor at the church my wife served as a secretary when we were in Seminary almost 30 years ago. . . First Presbyterian Church Northshore in Ipswich, Massachusetts.
None of us can even begin to imagine the immense burden the Evans family is carrying right now. But each of us can pray for the family and for Wes's healing. One of the latest updates posted by the family on their CarePage Site is that Wes – who is in an induced coma – lifted his arms today.
I want to encourage you to visit the CarePage that's been set up for Wes. You will meet a family that has gone deep in the things of God. . . and is going deeper – I'm sure – through this experience. Keep them in your prayers.