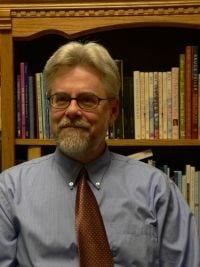 Yesterday I indulged my annual pre-Christmas tradition of trekking from here in Etown down to Dallastown and the Hearts and Minds bookstore owned by my old friend Byron Borger. It's a place I find very hard to describe. It's a place you have to experience to understand.
I love books and I value reading. . . especially reading widely. That's why my office is now getting close to overflowing with books. The shelves were filled years ago. Now there are piles of books and piles of boxes of books all over the place. Why am I telling you this? Because Hearts and Minds is a place run by people who love books. . . and it looks a lot like my office.
The store is attached to Byron and Beth's house on a residential street. Parking isn't easy if the little four space lot at the rear of the store is full. But that never seems to keep a steady flow of dedicated customers away. They come because Byron and his staff live out an amazing vision described on their website as this. . . What distinguishes us most is our enthusiasm for the development of a uniquely Christian worldview where Christ's Lordship is honored and lived out in relevant ways in the midst of our highly secularized, post-modern culture. We offer quality books for the sake of faithful Christian living. We serve business folk, scientists, artists, college students, moms, dads (and kids!), pastors, poets and politicos. We believe Biblical faith leads to "thinking Christianly" about every area of life. Hearts and Minds is not your mother's Christian bookstore!
But here's the best part. . . Byron and his staff love Jesus, they love thinking Christianly about all of life, they love books, and they love people. I think that's the way it's supposed to be. Every single person who walks through the door gets special attention. Yesterday, while I was looking through a pile of books that sat on the floor in front of the "biography" section of the store, an older gentleman came through the door in search of a specific type of Christmas gift for his wife. He was looking for – as he described it – a book that tells people about places in the Bible. Byron then led this dear, sweet, little old man into a part of the store where there are piles and shelves full of Bible reference books. With his trade-marked passion and pastoral tone, Byron then explained to the man what he was looking for – a Bible Atlas, along with a descriptor of several options and some great recommendations. I spend alot of time in bookstores, and I never see that happen anywhere else. Byron then offered to have the book wrapped. As the man was leaving with his find in hand, Byron told him that if it wasn't what his wife wanted, just bring it on back! It was beautiful. I think I got one more glimpse of what the bookstore in Heaven is going to be like.
It's this kind of knowledge, passion, and service that has gained Byron and his store great respect far beyond central Pennsylvania. Many of you have probably run into Byron and his famous book tables at conferences all around the country. Authors, researchers, publishers, and customers from around the world keep the phone lines at Hearts and Minds busy all day. People who have questions that start with things like "I'm looking for a book that. . . " or "What is the best book on. . . " go first to Byron. . . and for good reason.
Those of you who have never heard of Hearts and Minds should check out the store's website, paying special attention to Byron's "Booknotes Blog," reviews, and "recent site updates." Since Christmas is only a week away, Byron's got some amazing posts on a variety of gift ideas ranging from academic to children's books. Here's a little hint – pour yourself a cup of coffee before going to Byron's blog. It's not a quick read. Neither is it boring! Byron's personal enthusiasm for all things books (you understand what I'm talkng about if you know Byron) oozes over into his blogs and reviews. He will tell you about books you never imagined even existed. That's why I make the trek to the store. I also know that Byron's got some nice discounts going for his blog readers just in time for Christmas.
I'll take Hearts and Minds over the mall any day!