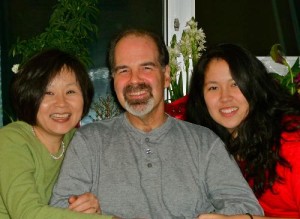 Last summer, I spent some time blogging updates and prayer requests for a friend who had been in a horrific accident. Dr. Gary Parrett, a professor at Gordon-Conwell Seminary, was in a bus that fell off an overpass while he was teaching in South Korea. Half of the people on the bus died. Gary was in very bad shape in a Seoul Hospital. Gary's family faithfully posted updates on Gary's condition on the Caring Bridge site over the next few weeks. Eventually, Gary was flown back to the U.S. via air ambulance to the Spaulding Rehab Hospital in Boston, where he's been for the last several months.
It's been a long and difficult road for Gary. Still, in the midst of the pain and heartache, every communication has been a testimony to God's grace and glory. His wife Holly and daughter Alisa have ministered to me and many others through their regular postings and updates. The story is rather miraculous. That's why I want to pass on the latest post on Gary's miracle. Here it is. . . and I'm looking forward to visiting with Gary at his home sometime during January. I've also posted a picture of Gary and his family. . . . he looks awesome! Thanks to all of you who have been praying for Gary.
For a long time, we had been hoping that Gary would be out of the hospital in time for Christmas, but recently it looked like we would only be able to have him at home for a couple days around the holiday before having to return to Spaulding. In a quick turn of events, though, we were able to get the ball rolling on his discharge and it turns out that he will be coming home for good, Lord willing, on the morning of Christmas eve! It's been a bit of a whirlwind with the quick decision, upcoming holidays, and wintry weather, but the hospital staff has been working in order to make sure that this Friday's discharge can happen. Gary's attending physician, Dr. Chae (who has been a continual blessing to all of us), has even volunteered to drive him home from the hospital.
We are very excited to go home and be together, but we are also scared about all the unknowns and whether or not we will be able to transition well. Tonight, all three of us are staying at the functional living apartment in the hospital to see how we will do without help from the nursing or medical staff. There will be a lot of changes to deal with, including home care and therapy. The home therapy that we are trying to set up for Gary will not be available until mid-January, so until then, Gary will be commuting back to Spaulding three times a week to receive outpatient therapy. Gary will have somebody to drive him back and forth from Boston, paid for by insurance.
Please pray with us as we transition to the house. This is the beginning of a new phase in Gary's recovery process, and it is by no means the end of the journey. Even so, this is a moment that we have dreamed and prayed about, but we had often despaired, doubting that it could actually happen so soon. We are so thankful for God's provision and, although we are apprehensive about the changes that are in store, we are so thankful for this Christmas blessing of being able to bring Gary home.
Much love from the Parrett family in this Christmas season! We pray that God will pour out his richest blessings upon you and yours through the rest of this year and the coming new one!