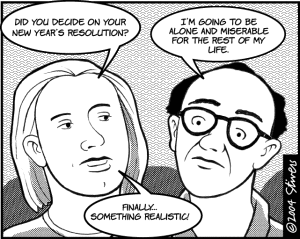 I've probably blabbered on and on about this before. . . but I don't really understand all the hype over celebrating the New Year. I think my worldview forces me to question why we get so excited about saying "goodbye" to the old, while looking with great anticipation towards the new. The reason for this is that we were just doing this a year ago, weren't we? And weren't we looking with great anticipation and expectation towards the 365 days that we're now happily bidding "adieu"?
I suppose it's that innate sense common to all humanity that something is deeply wrong with the world and the expectation that in days ahead, it will be fixed. It's that longing for ultimate redemption. And when that ultimate redemption isn't experienced through the endless parade of "redeemers" we embrace for naught. . . well. . . we wind up looking forward to next year.
For me, the shift to a new calendar (Lighthouses this year!)is more about wondering. I tend to ask questions regarding what surprises the Lord might have in store for me in the coming year. It's the knowledge that His sovereign plan will most likely include a mix of what we humanly call "good" and "bad," which in the scheme of God's grand design is all ultimately used for good. . . yes, even the hurt, pain, brokenness, and suffering. Last year I wondered about these things. The answers to my twelve-month-ago wondering lie in a variety of things, including the ongoing reminders of a sore shoulder and some still-messed-up ribs. The answers are also found in some amazing lessons learned and what I hope is a deeper and more mature faith that has me yielding more and more to Christ and His Kingdom. . . I hope. It's all good because in hindsight I see that I'd be losing alot of good stuff if I were to trade in the bad stuff.
This year I've been prompted to try something new as the New Year approaches. In my experience, most resolutions made by myself and others tend to be negative. In other words, they start with things like "This year I will stop. . . " or "This year I won't. . . " That's not necessarily a bad thing. But this year I've decided to be more positive and consider what pursuits and endeavors I might embark upon for the 365 days that follow the stroke of midnight tomorrow night. I've decided to work for the next twelve months on filling two voids.
First, there's a personal issue. God seems to have been pounding away at me for the last couple of years on the incomplete nature of my faith, particularly in relation to my understanding and practice of His heart for justice and the poor. Our trip to Africa with Compassion International was a great catalyst. It's changed the way I see the world – both near and far – and the way that I see the Scriptures. I realize it's all for naught unless it changes the way I live. So, I've decided to start the practice of starting each year with a new statement. . . "This year I will. . . " The sentence will be completed with a topic or theme that I will study, read about, pursue. So, this year – 2011 – I will embark on a focused quest to understand more about the heart of God when it comes to justice and the poor. Can you recommend any good books I should read?
Second, there's a professional void that needs to be filled. We've been making scattershot attempts at filling the void here at CPYU, but it's about to get more focused. I want to be more organized, succinct, and helpful at sharing what we know about kids and digital media with parents, youth workers, pastors, educators, and kids themselves. I'm afraid we as followers of Christ have jumped on the train without taking the time to consider the safest and most God-glorifying ways to go for the ride through this brave new world. I'll let you know more as this develops.
What about you? I'd love to hear what God is provoking you to do this coming year.