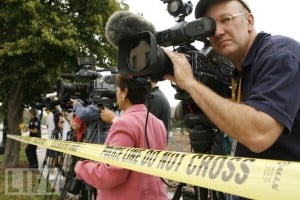 The media's latest blitz, not surprisingly, is all about last Saturday's shootings in Arizona. The fact that a young gunman killed or wounded a total of 20 people is certainly newsworthy. Add to that the fact that a federal judge and nine-year-old little girl were killed and the Congresswoman targeted in the shooting was critically injured, and the story becomes all the more compelling. We need to know about these things, as watching the news gives us insight into who we are, how we've gone terribly wrong, and our need to look for remedy's to the sin that runs so deep and wide in our world. But sin should never justify further wrong actions or lapses in common-sense and good judgment. Specifically, I'm thinking about two threads that are developing fast in this sad and compelling saga.
First, there's the media's obsession with the family of Jared Loughner, the young man who planned this out and pulled the trigger. We've seen the scene before – media trucks, bright lights, and a growing bank of cameras that are all part of the makeshift camp that sits outside the Loughner's home. What new news does the media expect to gather from a set of parents who are horrified, in shock, grieving, dizzied, and wondering what to do next? What are they expected to say beyond what's already been said in the statement they released? And why would so many of us choose to stay glued to the television set voyeuristically watching, all the while hoping that something new will happen and we won't miss it when it does? These people need to be left alone.
Second, there are those unbalanced and terribly misguided folks from the Westboro Baptist Church who have announced their intentions to show up to make a scene as those living and grieving bury their dead. We know for a fact that these folks have a history of bad theology and bad judgment. Is additional airtime helping the situation, when that's why they choose to show up in the first place? Perhaps the media machine could for once make a unified decision to let these people exercise their first-amendment rights without having to tell anyone that they're doing so. The media needs to leave the folks from Westboro Baptist alone, just like the folks from Westboro Baptist need to leave grieving families alone. . . that is, unless they want to truly minister to those who mourn.
Sadly, one thing we can't deny is that we've grown to love watching this kind of stuff. Maybe we need to leave it all alone, cut off the supply by cutting off our demand, and get on with the more important aspects of living life in God's world.