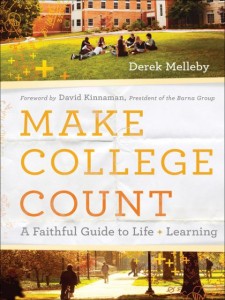 Those of you who know us know that we love books. We also like to write books. . . it's not always a fun process, but we do it! We've got a new one that arrived here at CPYU this week that I'm very excited about. Derek Melleby – Director of our College Transition Initiative – has just released a new book with Baker Books, Make College Count: A Faithful Guide to Life + Learning.
I know I'm biased, but this is, without a doubt (in my opinion), the best book yet to put in the hands of a college-bound high school student or a college student already involved in campus life. All too often we send our kids off to college with a handful of well-intended warnings that all begin with the word "don't." Then, we pray that they will survive their college years without caving in to the many negative pressures students face while on campus. But that's not the approach Derek takes in this book. What Make College Count offers is a positive, encouraging, and hope-filled challenge to make the most of the college years by embracing those things that bring glory to God.
Here's what I wrote in my endorsement for Make College Count: "Perhaps there's not a more significant watershed event in a young person's life than high school graduation and the transition to college. But research and experience point to the fact that many transitioning students either forget to or consciously decide not to pack up their faith with the rest of the stuff they are taking to college. The university years are the perfect time for students to grow in their faith. But by the time they have a diploma in hand, many have allowed the distractions of life and the idols of our culture to grow them away from their faith. Make College Count offers an accurate preview of college life. It encourages and equips students to thoughtfully make the most of college (and the rest of their lives) by embracing a real and vibrant faith that's not an extracurricular add-on but a foundation for all of life. This could be the most important book students read during their college years."
For years I had a burden regarding the sad and sorry state of the transition to college for so many of our students. God answered that burden with the addition of our Derek and our College Transition Initiative several years ago. The seminar and resources Derek provides through the College Transition Initiative are outstanding. . . second-to-none. They are resources marked by the excellence, depth, and practicality that we value so much here at CPYU. Now, we've got Make College Count as another valuable tool in our College Transition Initiative toolbox. I'm really excited!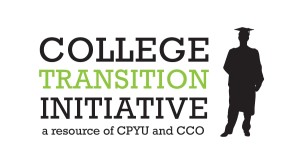 If you'd like to know more about Make College Count and how to get your own copy, you can click here.