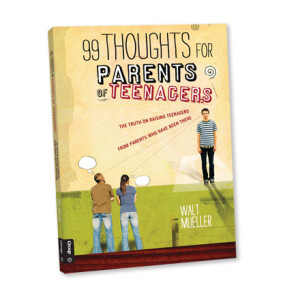 So. . . we've got a brand new resource here at CPYU that I'm very excited about. It's a book that's short, practical, pointed, Biblical, encouraging, hopeful, and realistic. I also want you to know that I worked hard to include some theological depth that's easy to read but all-too-often avoided or even forgotten. The book is called 99 Thoughts for Parents of Teenagers: The Truth on Raising Teenagers From Parents Who Have Been There. A big "thanks" to my friends at Simply Youth Ministry and GROUP for making this happen!
To help you understand 99 Thoughts for Parents of Teenagers, here's what I wrote in the introduction:
Once upon a time, I was the perfect parent. . . and then I got married and had kids. As time went on and our kids grew, I learned more and more about the realities of being a parent. I also realized how much I didn't know. I know I'm not alone. It's out of these realizations, our 27 years of experience as parents of four kids (15 of those years spent parenting teens), and my years of work with parents and teens through the Center for Parent/Youth Understanding (cpyu.org) that this little book has been birthed.
But before you start reading, there are some more things you need to know about me and this book.
First, even though my name is on the cover, I'm not the only one who has "written" the words you'll find on the pages that follow. More than anything else, this is the result of a parenting collaboration with my wife Lisa. Everything you read was learned, discussed, and thought about together over the course of our years as parents. Some of it we learned by studying the Bible – God's Word. Some we learned in the classroom of experience. Some we learned just by living with kids. Other things were learned through our interactions with other parents and in the company of friends. In many ways, I'm just the guy who put the words on paper.
Second, we are painfully aware of the fact that we don't have it all figured out. If you picked this book up hoping to find fool-proof advice from parenting experts who have it all together, you're going to be very, very disappointed. Lisa and I are the first to say that we're "fellow strugglers" on this incredibly rewarding and sometimes frustrating journey of raising and relating to teenagers. The roof on our house covers a life-lab where many mistakes have been made by dad and mom. Thankfully, God is a God of great mercy and grace, who uses our faults and shortcomings to do His work . . . in spite of who we are.
Third, we want to be transparent and honest. You need to know that we've had ups and downs in our parenting journey. Much of what you read has come out of our struggles to go deeper in our knowledge of God, our knowledge of ourselves, and our knowledge of who we are to be as parents. By the way, we're still in process on all those things!
Fourth, what you read is intended to be hope-filled. My desire is that no matter where you are in the parenting journey, you will find great hope and encouragement in the words you read. In many ways, I've simply passed on words that we've found helpful as parents of teens.
Finally, the little book you hold in your hands isn't anywhere near exhaustive. Think of it as a "starter collection" of thoughts that will help and encourage you along the way. I realize that I've probably left a lot out. There's so much more to parenting teens. My hope is that what you read here will whet your appetite in ways that will motivate you to go deeper by learning more.
And. . . a suggestion on how to read. . . perhaps the best way to read this book is twice. Take some time to sit down and read it from cover to cover to get the big picture. Then, go through it a second time, focusing on reading, pondering, and discussing one thought a day . . . prayerfully considering how God might be prompting you to work out and apply that thought in your home.
My prayer for you is that God would bless you as He parents you while you parent your teens. And, may He use this little collection of thoughts to bear great fruit in the life of your family!
Each thought is a sentence, followed by an explanatory paragraph or two. The initial response from those who have read it has been very positive. Several have ordered additional copies to pass on to their friends. I want to encourage my youth worker friends to get this thing in the hands of all your parents. I wrote it hoping that would happen. We've priced it to make that possible as well. . . it's only $6 a copy! For those of you who are cheap like me, you can buy 10 and get them for $5 a copy! You can order copies of 99 Thoughts for Parents of Teenagers here.