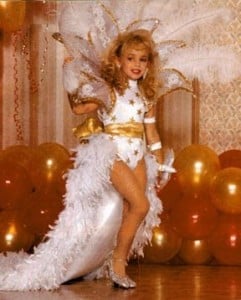 Every now and then my adventures in channel-surfing take me past what I think is one of the creepiest shows on TV – Toddlers and Tiaras. You know. . . it's the show where obnoxious parents of pre-schoolers – who live vicariously through their kids – have nothing better to do than gather with other like-minded obnoxious parents in an attempt to re-live their own lives by paying thousands of dollars to be a part of a pageant circuit that exploits children by having them parade around looking like middle-aged street-walkers. Wow! That was a long sentence. . . but it doesn't even begin to capture how dangerous these things really are, nor does it adequately express what I really think.
I thought of the show this morning when I read L.Z. Granderson's piece at CNN.com, "Parents, don't dress your girls like tramps." Granderson starts with these words:
I saw someone at the airport the other day who really caught my eye.
Her beautiful, long blond hair was braided back a la Bo Derek in the movie "10" (or for the younger set, Christina Aguilera during her "Xtina" phase). Her lips were pink and shiny from the gloss, and her earrings dangled playfully from her lobes.
You can tell she had been vacationing somewhere warm, because you could see her deep tan around her midriff thanks to the halter top and the tight sweatpants that rested just a little low on her waist. The icing on the cake? The word "Juicy" was written on her backside.
Yeah, that 8-year-old girl was something to see alright. … I hope her parents are proud. Their daughter was the sexiest girl in the terminal, and she's not even in middle school yet.
I'm guess that like me, you're not at all surpised. We've all seen it. . . over and over and over again. Which means that it's become normalized in our culture. So much so, that we're getting to the point where we probably won't even notice it anymore. That's what desensitization and normalization are.
What's the antidote? Granderson ends his piece with this:
"Maybe I should mind my own business.
Or maybe I'm just a concerned parent worried about little girls like the one I saw at the airport.
In 2007, the American Psychological Association's Task Force on the Sexualization of Girls issued a report linking early sexualization with three of the most common mental-health problems of girls and women: eating disorders, low self-esteem and depression. There's nothing inherently wrong with parents wanting to appease their daughters by buying them the latest fashions. But is getting cool points today worth the harm dressing little girls like prostitutes could cause tomorrow?
A line needs to be drawn, but not by Abercrombie. Not by Britney Spears. And not by these little girls who don't know better and desperately need their parents to be parents and not 40-year-old BFFs."
I agree. Parents are the people who are primarily responsible for their kids. But don't our culture-makers have a responsibility too? It's difficult to raise a child. It's even more difficult to raise a child when "the village" screams competing messages that send our kids in the opposite direction than we're sending them. Shouldn't the culture-makers take some responsibility and do the right thing, rather than the dollar-generating thing? I think so. But when the culture-makers capture the hearts and minds of kids and their parents. . . well, that's when we get to the point that we're at now.
Wake up everybody! In the words of Bill Cosby, "Come on people!" Get a clue. Do the right thing.
What do you think?