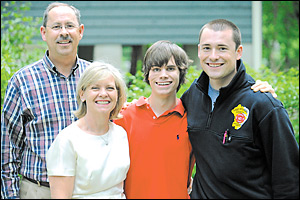 My daughter-in-law Sheila emailed me a link to a great article this morning. It's about some friends who have seen God's mercy in the midst of great difficulty. That's them in the picture. We got to know them when their son Morgan spent a couple of years playing defense with Sheila's husband Josh (our son) on the Messiah College lacrosse team. Morgan's mom Deb is a flight attendant. . . trained to be cool under crisis I'm sure. And Ryan. . . he's the one the article is about. What a character!
I simply want to pass on this great story – "A Miracle, perhaps, but no accident" – written by E.B. Ferguson III for The Capitol. It hits home for me in a small way. I had two EMTs "happen" upon me while I was laying in the middle of the road 10 months ago. They were among the first there as they had been sitting at the light and saw me go over my bicycle handlebars. I never saw them that day, but I heard them and felt them as they stabilized me until the ambulance arrived. A trauma doc at the Kupfer's accident a coincidence? I don't think so. Read on. . .
Early this month, Lt. Tina Pitner was working her usual shift at Fire Station 35 on Forest Drive.
It was routine except that a paramedic student would be doing one of his required ambulance ride-alongs. The young man checked in, introduced himself and went on his rounds.
When he returned, he put his information folder on Pitner's desk so she could sign off.
"When I looked down and saw the name on the folder the hair stood up on my arm," she said last week.
"I said, 'I know you.' "
Ten years ago, Pitner treated now-23-year-old paramedic candidate Morgan Kupfer and his mother, Debbie Kupfer, following a car accident that nearly killed his younger brother,
Ryan. Pitner transported them to Anne Arundel Medical Center.
The younger brother was stabilized there and then rushed to Johns Hopkins Pediatric Unit in Baltimore, barely holding on to life.
"I have been doing this for 18 years," Pitner said. "And you don't remember most calls, but I remember that one to a 'T.' "
Ryan Kupfer beat the odds. But his family thinks it was the intervention of a higher power and scores of good deeds by untold hundreds of people who helped them on their journey back.
The accident
On the morning of May 20, 2001, Debbie was driving her two sons to church. Her husband, Mark Kupfer, already was ushering at Annapolis Evangelical Presbyterian. She turned onto Bestgate Road from southbound Generals Highway. A Chevy Suburban slammed into their Volvo.
Debbie and Morgan were slightly injured. But Ryan suffered a head injury that tore away the flesh from the right side of his face and severely injured his eye. Debbie got Morgan out of the car so he wouldn't see his brother. She told her older son that they could not help Ryan.
"But God can," she said.
And she began to pray, blood dripping from her own scalp wound.
Moments later she looked up to see a man leaning in their car.
"I yelled, 'Stay away from him, don't touch him,' " Debbie said last week on the anniversary of the accident.
"It's OK. I do this for a living," said the man, who happened upon the accident while taking his daughter to field hockey practice.
He looked at the boy. He wasn't breathing. So, the man opened Ryan's airway and probably saved his life.
Dr. David Gens, senior surgeon at the Maryland Shock Trauma Center in Baltimore, was, literally, in the neighborhood.
"I saw the boy who hit them walking around in a daze. He was a neighbor of mine."
While the family believes providence had something to do with Gens arriving on the scene, he calls it luck and training. "It was their luck that a trained trauma surgeon appeared at the scene."
But it makes you wonder, Pitner said.
"One word comes to mind when I think of that family – faith. That was it from the moment I met them that day," she said.
Debbie regards other people who intervened that day as anonymous angels:
The woman who sat with her on the curb. "I know you are praying, but I am going to hold this Kleenex on your head. You are bleeding."
Another woman who got in her car and drove two miles down Bestgate Road to get Debbie's husband at the family's church.
"This woman comes up and asks me to help get something out of her car," Mark remembered. "I walked out to her car and she said 'Get in. Your family has been in a serious accident.' "
Standing vigil
The nurse at Johns Hopkins said Ryan was one of the worst accident victims she had seen.
They couldn't find the boy's ear. His eye socket was shattered. A chunk of his skull had to be removed to alleviate the inevitable brain swelling.
Six teams of surgeons worked 10 hours.
They found his ear behind a flap of skin. They discovered Ryan's optic nerve was somehow intact.
For seven and a half weeks after surgery, Ryan lay in a coma as his family stood vigil. They were spelled by church members and other family so they could try to resume a normal life.
"Morgan had to get to a practice or something, so people drove all the way to Baltimore to make sure he didn't miss it," Debbie said. The outpouring of charity was almost beyond words.
"I might have cooked six meals in that first year," she said.
One man in their neighborhood came by to cut the grass.
"He not only cut it but it had a pattern, it looked like Camden Yards," Mark said.
Another day, a box was delivered with a Cal Ripken autographed baseball and a Jonathan Ogden autographed football.
Annapolis dentist Dr. Louis Ruland was Morgan's lacrosse coach. He set up a fund to help pay for Ryan's recovery. (He put $1,000 in to start it.) Ryan's stay at the Kennedy Krieger Institute for rehabilitation cost $1,500 a day.
"People would come into the office and pay part of their dentist bill then ask if they could make a $100 donation," Ruland said.
For years, the Kupfers sent extra bills to Dr. Ruland.
The bills got paid.
Giving back
Ryan is 19 now.
Doctors thought he would not live. They said he would not talk (oh, he talks up a storm). They didn't think he would regain mobility. Ryan plays lacrosse.
"I play attack, it's awesome." He still wears a brace on his lower leg to help him get around.
His brain has adapted. Short-term memory is tough, and that may never fully recover. His father is amazed at his math skills despite the accident damaging the part of the brain normally responsible for those functions.
He attends High Road Academy in Prince George's County. He's a few credits short of graduation but keeps working to reach that goal.
He attended prom.
"I had a blast," he said. He especially enjoyed the slushies.
He has rediscovered a knack for art. An art teacher at his previous school, The Harbor School, gave him the freedom to do what inspired him. Two of his paintings were selected from a thousand entrants to be sold at a recent fundraiser.
He has a small room off the family room where he goes to create art and enjoy the quiet.
His brother, Morgan, soon will be a paramedic. He is driven not by the memory of that day but by what has happened since.
"I saw the compassion, the unselfish giving by all the people who helped Ryan," Morgan said.
"It makes me want to give back."