Just like I wondered how my Dad ever survived a childhood without television, my kids wonder the same about my early years spent in the tech-free desert of the stone-age period known to them as the 60s and 70s. Technological advances have occasioned the notion – once more – that previous generations lived in relative existential squalor compared to the blessings, advantages, and rewards of being born when we were born.
Sure, the presence of the Internet, digital media, and social networking are things we only dreamed about or didn't even have the capacity to imagine. It's all some pretty remarkable stuff that we use to great advantage. But lately, I've been exploring the dark side of it all. There's the highly publicized dark side that includes things like pornography, Internet gambling, etc. But what I'm talking about here is the more hidden dark side that we typically miss. Ironically, when we miss it, we're usually right there in the midst of it.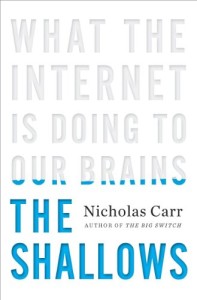 Nicholas Carr offers a compelling and interesting analysis of some of these dark corners in his well-written book, The Shallows: What The Internet Is Doing To Our Brains. He says that the Internet "provides a high-speed system for delivering responses and rewards – 'positive reinforcements,' in psychological terms – which encourage the repetition of both physical and mental actions. . . the Net's interactivity gives us powerful new tools for finding information, expressing ourselves, and conversing with others." True, very true. But then Carr writes this. . . and it really got me thinking: "It also turns us into lab rats constantly pressing levers to get tiny pellets of social or intellectual nourishment." Wow. Again. . . true. . . very true.
I wonder how nourishing many of those pellets really are? I think that much of what we obsessively press levers for is little more than pellets of crap. Seriously. This happens when our dark sides take us into the dark side and again, we don't even know it. . . . or at the very least we fool ourselves into thinking that it's really not all that bad.
Once again, it's helpful to heed lessons from Anthony Weiner, who I think we should see as the poster boy for where we're headed as a culture, as communities, and as ourselves if we don't think more seriously about these matters and how they relate to our faith. I'm also aware that Weiner might not be the poster boy for where we're headed, but the poster boy for where we already live.
This morning, the New York Times' Ross Douthat has an op-ed piece that's pretty doggone insightful and thought-provoking on these things. It's worth a few minutes of your time. Douthat says that yes, "technology really does affect character. Cultures do change from era to era, sometimes for the worse. Particular vices can be encouraged by particular innovations, and thrive in the new worlds they create." Douthat goes on to say that it isn't smut, lust or infidelity that's the Internet era's defining vice. Rather, "it's a desperate, adolescent narcissism." And so, many of the grown-ups we know (ourselves?) who should know better, are still acting like a bunch of self-absorbed kids.
I like how Douthat ends his piece: "Facebook and Twitter did not forge the culture of narcissism. But they serve as a hall of mirrors in which it flourishes as never before – a 'vast virtual gallery' . . . whose self-portaits mainly testify to 'the timeless human desire for attention.' And as Anthony Weiner just found out, it's very easy to get lost in there."
Maybe some of the things we've been lulled into thinking are rewards and blessings, are really only curses. That's all the more reason to think Christianly about technology and social media. Keep using it all. . . but let your faithful thinking guide and direct faithful living in the digital frontier.