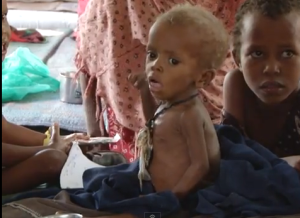 I just exchanged texts with my good friend Rich Van Pelt from Compassion. I asked Rich what he knows about what's happening in Africa. It seems that the rest of the world knows alot more about the famine, drought and resulting crisis than we do. Rich told me that it's all over the news in Europe.
The good news is that the U.S. news media is starting to pick up the story. I was prompted to contact Rich after watching this story on the NBC Nightly News just a few minutes ago.
Shortly after running the story on what's happening in Africa, NBC Nightly News ran this little clip on what seems to be one of the biggest stories capturing our attention in the U.S. right now. It should sadden us to hear this story's numbers thrown around in light of what's happening in Africa.
This morning's reading in Encounter With God pointed me to these words in James 1:27 – "Religion that God our Father accepts as pure and faultless is this: to look after orphans and widows in their distress and to keep oneself from being polluted by the world."
So, what now? May I ask you to do two things? First, would you consider stewarding what God has entrusted to you with one of the organizations that will use it to meet the needs of the desperate folks in East Africa? There are many organizations from which to choose. Lisa and I are going to use Compassion and we invite you to do the same. If you would like to make an immediate donation through Compassion, just click here.
And second, would you do all you can to spread the word? These are the times when the body of Christ can step up and use the wonders of social media to start and sustain a movement that could make a difference in millions of lives.