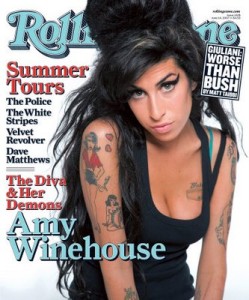 After a weekend getaway void of most technological connections, Lisa and I returned home late last night. I settled into bed and decided to give the Sunday paper a quick once-over to see what happened in the world while we were away and disconnected. Several pages in, I verbalized surprise at one large headline. "Oh man! Amy Winehouse died!"
For all of us, it's only a matter of time. I recently heard someone say that every year we all pass an anniversary that we aren't aware of. You see, every year we live through the day on our calendar on which we will die. Only 27 years-old, Amy Winehouse died far too young. While saddening, it's not all that surprising. Even her mother is quoted today as saying that she somehow knew something was up only 24 hours before Winehouse was found dead. Any Winehouse was a fascinating yet tragic figure even while she was alive. Tormented by so many of the issues that we all pray won't visit kids in these troubling times, Winehouse made music that flowed out of these realities. That's why it connected so well with so many.
One of the first things I did this morning was log onto our CPYU website to read what I had written about Amy Winehouse back in 2008. I had written an analysis of Winehouse, her music, and what it tells us about our culture and the people who live in it. Here's how I started the piece. . .
The writer of Ecclesiastes reminds us that "there's nothing new under the sun." In more recent times, pop culture historians have said almost the same thing another way—that "what goes around comes around." When styles and sounds are recycled years after they first dropped onto the landscape of adolescent culture, both of these sayings are proven true. While it isn't at all unusual to stumble upon a pop culture "do-over," the nuances of the replication and the replicator can be quite startling.
Eight years into the new millennium, the most recent pop music "goes around" is a petite little Brit who's channeling the distinctive look and sounds of '60s girl groups ala The Ronettes, Poodle skirts, heavy eyeliner and beehive hairdos. But true to the rapid changes that have taken place in youth culture since Ronnie Spector and her Ronettes topped the charts with "Be My Baby," this 2008 version is not a member of any of your mother's '60's girl groups. If Ronnie Spector had any tattoos, we didn't know about them. If she was struggling with disordered eating or addictions, it wasn't at all obvious. And if she sported scars on her arms from self-abuse, nobody saw them. That's not the case with Amy Winehouse, an extremely talented and terribly tortured young 24-year-old singer who's taken the musical world by storm. Seventeen years after Nirvana captured the pain of a generation with "Smells Like Teen Spirit," Winehouse has—by default—assumed the role of today's Kurt Cobain by putting to music what far too many children, teens and young adults are experiencing and feeling. Read the rest of the article here.
I realized that Amy Winehouse and Kurt Cobain both died at the young age of 27. I hope we realize that these two shouldn't be seen as temporary blips on the youth culture radar. They both represented and continue to represent the fact that all human beings are made in the image of God, that we are all marred by sin and brokenness, that all humans long for redemption, and that the role of the church is to reach out, love, and minister as we live and proclaim the Good News of the Kingdom. In life and death, Amy Winehouse can teach us a lot about our world, our selves, and our hunger for Heaven. Hopefully, we'll allow Amy Winehouse to remind us why we do what we do, while giving us clues for how to do it.
(If you haven't already read the entire piece on Amy Winehouse, I encourage you to take some time to read it in order to learn about Winehouse, her music, the draw it has on kids, and what we can learn from the Amy Winehouse phenomena about doing ministry with kids in today's world. You can read it here.)