Several years ago I had a conversation with a close Christian friend who said he had something to tell me. It was a different time – a markedly different time – when he opened and poured out his heart with these words: "I want you to know that I wrestle with homosexuality." His intent was to confess something extremely personal to a close brother. I was one of many friends with whom he had this same conversation.
That conversation – and some others much like it – started me on a journey of wrestling with homosexuality. I confess that the journey has continued on for me for just about thirty years. I don't want my wrestling match to end. It's not time for it to end. I have not yet gotten to the point where I can with confidence say that I have fully reconciled how to respond to homosexuals and emerging cultural attitudes in ways that reflect a deep commitment to God's will and way (as revealed in the Scriptures) in regards to a theology of homosexuality, coupled with a God-glorifying response to the homosexual. In other words, how can I be true to the Scriptures and remain faithful to God in my understanding of and attitudes about homosexual behavior, and how can I be true to the Scripture and remain faithful to God in my attitudes toward, behavior toward, and interactions with those who identify themselves as homosexuals?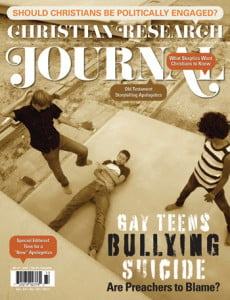 It was this ongoing wrestling match that caused my eyes to stop when they spotted a recent edition of "Christian Research Journal" on the shelves at Barnes & Noble. The cover photo and article caught my attention: "GAY TEENS – BULLYING – SUICIDE – Are Preachers to Blame?" Joe Dallas begins his piece with a rundown of high profile suicides that took place over the course of three months about a year ago. In each case, bullying was cited as a precursor to the self-inflicted death of the homosexual victim. Dallas says that "the outpouring of national grief that followed was predictable and right. . . outrage was called for, and disgust over bullying was expressed far and wide."
Dallas goes on to say that Christians and non-Christians alike seek answers to a host of questions, most important of which is "how do we prevent more of the same?" I agree. These stories should break our hearts. Sadly, there are many in our culture – some who call themselves "Christians" – who take a "He-she deserved it" and "let them die!" approach. Equally sad is that people who take this reprehensible and anti-Christian approach usually get the most press, leaving those of us who struggle to form a Christ-honoring response largely unnoticed. Maybe that's why Kathy Griffin and others cited by Joe Dallas speak out to say that anybody who says that homosexuality is wrong or immoral have the blood of these suicide victims on their hands.
I would in no way argue that Joe Dallas's article offers a complete perspective. I don't believe he would either. But he does say that for those of us who hold to a biblically informed worldview (those who believe that homosexuality – like many, many other things – falls short of the Creator's design) face the challenge "to not only maintain and promote a Scriptural position on human sexuality, but also to defend that position against charges that it is inherently destructive. This we can do through rebuttal, reflection, and resolve."
I won't work through Dallas's rebuttal to the slippery-slope arguments put forth by people like Kathy Griffin here – you should read the article for yourself. But what I will pass on is what Dallas says about things that should be part of our own wrestling match with issues of homosexuality. . . or any other sin/sinner issues that we choose to publicly address. He writes, "Granted, the evidence backing charges made by Sykes and Griffin is lacking, and when the church is accused of complicity in these awful suicides, the burden of proof isn't being met. But we cannot with integrity absolve ourselves of any unfair or unkind attitudes toward homosexuals, and here some serious reflection is called for." Yep. . . we need to wrestle with this stuff.
And so as you wrestle. . . consider these sentences from Joe Dallas at the conclusion of his article: "We can know the Word of God, seek the Heart of God, and express both the Word and Heart of God to the homosexual. If we resolve to do this, diligently and consistently, we cannot fail."
I am fully aware that these issues run deep and wide in our culture. They are complex, difficult, and not easy. And if we hope to truly reflect Christ and honor and glorify God through what we speak, teach, and do, we'd better be tending not only to specks, but to logs.