The changes continue. Some are good. Some are troubling. All of us must be thinking about how to live redemptively with the changes in the midst of the changes. . . and then endeavoring to do so. That's what discipleship is all about isn't it? I was reminded of the pressing need to obediently integrate faith into all of life when I saw this morning that Senator Mark Hatfield had died. Hatfield was one of those icons who pushed the integrated faith agenda in a high-profile way when I was a college student. He talked seriously about these things he lived when he spoke to me and thousands of other college students at the Jubilee Conference thirty-some years ago.
Yep. Huge cultural change requires thoughtful reflection centered on biblical truth. That's certainly true as we inhabit the fast-expanding digital frontier. My eyes, ears, and mind have been especially tuned into this reality over the course of the summer as I've focused my time on our new Digital Kids Initiative here at CPYU, the first-fruit of which will be presented in a seminar at this fall's National Youthworkers Conventions.
In the same newspaper that informed me of Hatfield's death this morning, I took a look a close look at one of the two full-pages devoted to comics. Almost one-third of the comics on the page included explicit or implicit references none of us would have understand in a pre-Google, YouTube, email, texting, etc. world. Just seven years ago several of the comics would have left us confused and scratching out heads. But living the last few years on the digital frontier left me laughing.
On another page of this morning's newspaper there was an article about Pages. . . House Pages that is. This is the 200-year-old program that in recent years has enlisted high school students to serve as messengers for Congress while affording them an opportunity to learn first-hand about our U.S. Government. But the $5 million program can no longer be justified in the digital age that's ushered in electronic delivery mechanisms. There just isn't anything for them to deliver anymore. I was a bit saddened by the news as just two months ago I wrote a recommendation for a young friend who was trying to get into the program.
I've been thinking a lot about how life has changed, what we can celebrate, and what we must be paying extra special attention to in this new age of digital explosion. One of the trends I've discovered in my reading and research is that far too many people are accepting change without much thought or critique. On the other hand, those who are sounding warnings – which in many ways are deeply prophetic – linger in the shadows preaching to the choir while naysayers write off their thoughtful critique as over-reaction or alarmist. But the more I read, the more I realize that what they're saying is accurate, and the "frogs" who should be listening are content to boil away without even knowing it. . . at least not yet.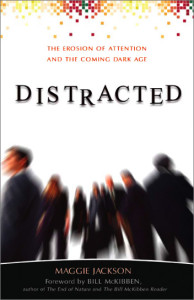 One of the most intriguing and thought-provoking books I've read this summer is Maggie Jackson's Distracted: The Erosion of Attention and the Coming Dark Age. Jackson believes that we are nurturing a culture of diffusion, fragmentation, and detachment. Eventually, it's all going to come crashing down and Jackson – along with others – will be saying "I told you so." I think she's on to something. As I've watched others and myself mingle with all the wonderful stuff afforded to us by life on the digital frontier I've seen far-too-much non-engagement from a biblical perspective. You know. . . the kind of critical thought that says "Hey. . . we might be getting ourselves in too deep here." Idolatry is like that, you know.
In a chapter on "Awareness," Jackson chronicles how our culture has changed just in the way we eat. She tells of a lunch with Dunkin' Donuts Regina Lewis, who serves as head of consumer insight for the brand. Lewis says that Americans want to eat. What they want to eat can't be drippy, crumbling, or spillable. I got to thinking. . . isn't that what a good donut is all about?!? The reason for these preferences is that we are now spending more time eating in our cars and we don't want to spill on or stain our clothes. It's for this reason that non-spillable pizza slice has been developed. . . one you can turn upside down without having anything fall off! Consider these little snippets from Jackson:
-Nearly half of all American say they eat most meals on the go or away from home.
-40 percent of our food budgets are now spent on eating out, compared with a quarter in 1990.
-25 percent of restaurant meals are ordered from the car, up from 15 percent in 1998.
-Even the notion of what constitutes a "meal" has changed. Americans report that 20 percent of their "meals" aren't breakfast, lunch, or dinner. Snacking is now the norm and we fit in "meals" whenever we can.
We're busy, on-the-go, constantly moving. We don't eat together as families anymore. . . or at the very least, rarely. We are perpetually moving. And in a digital world, we are moving even when we are sitting still.
What are the issues this raises in relation to faith and life? What must we be challenging ourselves and the emerging generations to be thinking and doing if we/they hope to live faithfully in this brave new world?
I believe change is a good thing. But if we accept change blindly, we'll be blind to what that change just might be doing to us.