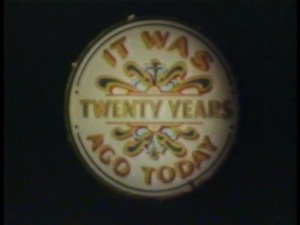 I'm not sure what the experts would call it, but I measure my life in increments. Two weeks ago today. . . one week from today. . . ten years from now. . . . etc. I'm not sure why I do it, but it helps me to both remember and to plan ahead. Playing that little game today has some extra special meaning for me. The first words of The Beatles' "Sgt. Pepper's Lonely Hearts Club Band" have been in my thoughts for several days. You see, we moved here to Elizabethtown on August 31, 1991. Twenty years. So hard to believe. Our days truly are like the grass of the field.
This anniversary is important to me for what it reminds me of. We had been living in the Philly area for six years and were one year into what we are doing now. We had three of our four children and they were little. . . sharing a tiny bedroom we called "the bunkhouse" in a house we were renting from my folks. A move to a bigger place was necessary but the rent for anything bigger in that market was way out of our league. Through a series of miraculous God-planned circumstances, we discovered we could build a house in Elizabethtown for less than renting in the Philly suburbs. Not knowing where the money would come from, we started the process. Along the way, God provided in some amazing and very humbling ways.
That's why I need to pause to celebrate and remember. We never asked for financial help. . . but offers of all types came in from God's people. Generous checks came as we needed them. . . appearing from almost nowhere. I still thank God for those folks. You know who you are. A builder named Gerry Horst stepped up out here and built us a house at what we could afford, making it affordable by allowing us to leave some of the house unfinished while also allowing us to drop the price by doing some of the finish work ourselves. My brother Mark – the most talented wood-working craftsman I know – hung doors, trim, and cabinets. His miter joints still look remarkably perfect! A small army of people came out to help us paint. I can't remember everyone who helped us apply two coats of Pittsburgh Paint's "Bone White" to every square inch of the place, but I do remember Jeff, Bob, Randy, Judy, and Dave as being among the many who drove the 90 miles to help us out for a few hours. Then there was the moving day with the big rented truck and the host of people on both ends who helped to load and unload. Every day that I walk out into our driveway I am reminded of that moving day by the small indentation left in my driveway from the corner of the rental truck lift.
Lots has happened in the twenty years since. I've been thinking about that all week. Over the years I've tried to remember to thank God everyday for the gift of the house we live in. In many ways, I still can't believe that it all happened. We added a child at this house and they are now all grown. The place is filled with amazing memories both inside and out. I've thought a lot about that over the last few days. But there are two overwhelming thoughts I've had as I've pondered the twenty years we've spent in this place.
First, God has reminded me that life on this earth is not what it's meant to be. There's been a lot of pain and heartache since 1991. When I think about the army of people who contributed to our house and our move, I realize that the years and all of our lives have been filled with disease, death, divorce, discord, and all other sorts of messy stuff and brokenness. The rotting window wood I fixed this summer is really representative of life. Moth and rust continue to creep into everything.
But I'm glad there is a second reality. I've also learned that God is and that God is in control. He's in the business of carrying burdens, redeeming suffering, and making all things new. There's a day coming when He'll fix it all and we'll inhabit the new Heaven and the new Earth.
Today, I look back to a great day and thank God for what He did. Today, I look forward to an even better day when all that bad stuff I already mentioned will be healed and happening no more. I was reminded of that once again just yesterday when a pastor friend told me about a woman he knows who was asked, "Tell me about the best day of your life." She answered, "It hasn't happened yet!" I look forward to that moving day as well.