Like you, I spent some time on Sunday flipping around to some of the various televised 9/11 remembrances. For most of the time, our family was stuck on MSNBC's rerunning of the actual live NBC broadcast of those horrible events as they unfolded. We were mostly silent as we pondered the tragedy and massive loss of human life. At times someone would make a comment or ask a question. Maybe the best word to describe our mood was solemn.
We also spent some time watching and listening to some of the "ten years after" commentary. Since it was the first full day of the NFL season, we saw flyovers, moments of silence, and patriotic flag-unfurlings at games around the country. Maybe the best word to describe the mood of these events was tasteful.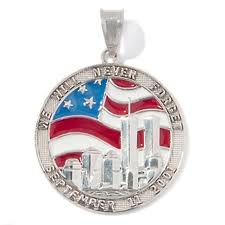 But at one point later in the day I was flying through the channels when I stopped on a station that usually leaves me scratching my head. On Sunday, the head scratching jumped into high gear as the Home Shopping Network peddled a medallion engraved with the New York skyline pre-9/11. I don't know her name, but she was one of the many generic sales-models that usually sell fake precious metals and gems to a host of home shoppers. . . many of whom, I'm sure, will buy anything and everything sold in TV. But on a day when we needed to ponder the imperfections and broken condition of humanity, here was HSN seemingly cashing in on tragedy to make a buck. The sales pitch went on and on as the number of items sold rose. To me, it seemed almost like a souvenir stand had been set up next to Ground Zero as the dust was still settling. . . and the proprietor of the stand was barking out her sales pitch loud and clear. Maybe the best word to describe what I was watching was bothersome.
Maybe I shouldn't be surprised. But aren't there times and places when we shouldn't be trying to make a buck. . . especially off of tragedy? Maybe we're so used to marketing, selling, and spending that stuff like this has just been normalized and accepted.