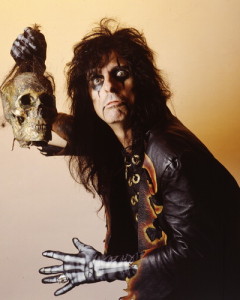 My past came back to haunt me last night. . . almost literally. Big Tom Piotrowski (if you've been around CPYU for a few years you remember my 7-foot-tall former NBA-playing friend) texted me to ask if I had ever heard the Alice Cooper interview on NPR. Nope. . . can't say that I have. Nor can I say that I would even have imagined Terry Gross sitting down with the shock rocker from my own adolescent past. Tom's suggestion along with the weird combination (think my Grandma's Peanut Butter and Onion sandwiches) got me interested enough to tune in immediately. Big Tom was right. It was worth it.
The character known as Alice Cooper (real name Vincent Furnier)was hitting it big with his shock rock antics and first mega-hit single "School's Out" way back in 1972 at just about the same time I was walking away from my last day of 10th grade. His career was propelled into the realm of success thanks to the famous "chicken incident." You can learn more about Cooper, the chicken incident, and his shtick by listening to the interview.
What struck me most about what I heard was the story of how he created his character and the Alice Cooper shtick. In hindsight, Cooper's explanation makes full sense. But I was one of the people he refers to who just didn't get it. I was a kid who was drawn to his antics out of curiosity. After all, he was the first person to pull this kind of thing off. As he says in the interview, his "band drove a stake through the heart of the love generation." I'm not sure any of my friends and peers were getting it at the time either. Instead, this new kind of counter-cultural presence was a way for kids to spit on accepted values and conventions, including the Christian faith. Today, we all know that Cooper is a professing Christian. Adamant about his faith in fact. If you listen to the interview, you'll hear him say that Marilyn Manson took it way too far with the evil anti-God stuff. But back in the day I'm not sure Christians could have said anything but the same thing when it came to Cooper. Bottom line. . . when it was all happening, it seemed like he was serious. Consequently, I'm sure he did have some influence on people of my generation. . . and I recognize that his influence was much greater on some rather than others. Even today I continue to struggle with what seems to me to be a disconnect between Cooper's profession of faith and performance.
I don't think that it's coincidental that just before listening to the Cooper interview, my television told me about Britney Spears' envelope-stretching new video that's scheduled to break in a few days. Even today's New York Daily News reports that it's over-the-top: "Britney Spears' new music video for "Criminal" is guilty of being really racy. In it, she and real-life boyfriend Jason Trawick strip down to nothing and steam up the screen in bed and in a shower."
I know this stuff leaves a deep visual and lyrical impression on kids – it's life-shaping for young listeners. I watch and wonder how this mixes with the persona and message of the teenage girl Spears once was. . . a girl who was open about her Christian faith and background. I wonder if thirty years from now she'll be on NPR with Terry Gross, telling the world that it was all just an act.
The point here is that when we follow Jesus we are to follow with integrated and complete lives. I'm struggling to understand obviously divided selves that are going here, there, and everywhere. In the case of Cooper, I can now understand what he's saying and what he's doing. Still, I'm struggling to justify the connect between his faith and his art. In Spears' case, the disconnect is huge. In both cases, I'm convinced that if by chance it's all an act, the children of their respective times are doing more following of the act, than critique. If it's an act, they aren't getting it.
This all reminded me today of something I read over the weekend in Richard Mouw's great little book on Abraham Kuyper. Mouw quoted James Hutton MacKay – a turn-of-the-20th-century Scottish pastor who spent time ministering in Kuyper's native Holland. MacKay said this of Kuyper and the mental habits of the Dutch: "they like to see things clearly, and to see them as they are – at least as they seem to be men of sound understanding. 'We are people of dykes and dams,' a Dutch writer said recently, 'both as to our land and our mental life.' And Dr. Kuyper's often-quoted saying about the danger of 'blurring the boundary lines' is characteristically Dutch. . . . Much, I believe, can be learned from a people who have a remarkable gift of making distinctions, wrought into their nature, possibly, by many centuries of unrelaxing toil in making and holding that distinction between land and sea, which to them is a matter of life and death."
This is what our kids will be watching in a few days. I wonder if they'll be able to think Christianly enough to distinguish between land and sea?