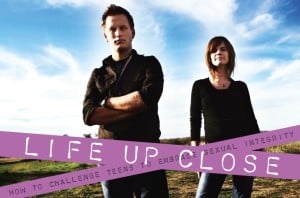 Recently the CDC released another in what seems like a never-ending stream of reports on kids and their sexual activity. Perhaps you saw an article on the report's findings that was published last week. After reading the article in our local paper, I asked CPYU Associate Staffer Jason Soucinek for his response. Jason runs Project Six19 and is working closely with our Sexual Integrity Initiative here at CPYU. He'll be coming to Central Pennsylvania to lead a one-day training event – Life Up Close – How to Challenge Teens to Embrace Sexual Integrity – on Tuesday, November 8.
Here's what Jason had to say about the CDC's latest findings:
Last week, the CDC released a new study, Teenagers in the United States: Sexual Activity, Contraceptive Use, and Childbearing, 2006-2010 National Survey of Family Growth which gives conflicting data. There seems to be a continued increase in the number of teens that are choosing to not have sex. However, there continues to be an increase in number of teens that contract STDs (sexually transmitted diseases) each year.
Teens already bear the burden of 50% of all new cases of STDs. Yet they only comprise 25% of the total population. Notably, the study points out, girls ages 15-19, have the highest rates of Chlamydia, a common STD. This is troubling since this statistic overlaps the time frame when most teens receive sex education instruction.
What makes the rise in STDs even more surprising is that this report shows that condom use among teens has increased since 2002. If condom use is increasing among teens, but STD rates continue to rise, teens may be taking sexual risks because they have been taught that condoms offer adequate protection from the physical consequences related to teen sex.
We live in an age of paradox. These statistics dramatically demonstrate this. On one hand we are seeing the rise of condom use. Which we might think would cause a downturn in STD contraction. However, as this report clearly shows, that is not happening.
For years, sex education has focused on the condom as the cure all for all physical consequences. But over and over again that is proven false. Condoms can be an effective barrier in the contraction of an STD and preventing pregnancy, but it is not the most effective. There are three things worth noting about a condom and its effectiveness. First, in order for the condom to have any impact it has to be used. As you are probably aware teens are not the best at being prepared "in the moment". The CDC states that in order for a condom to be effective it has to be used correctly and consistently, which means every single time they have sex. Any guess how often a teen uses a condom correctly and consistently? Some studies suggest that it is as low as 3% and no study goes higher than 63%. Even at the highest mark, which I doubt are that high, teens are still potentially exposing themselves to STDs and pregnancy 37% of the time.
Second, even when a condom is used correctly and consistently you can still transmit and contract an STD. Viruses like genital herpes and HPV can grow in areas not covered by a condom. And once you get one of these STDs they don't go away. You can treat the symptoms but you will always have the virus.
Finally, a condom will never protect a teen from the emotional, social and spiritual consequences related to early sexual activity. This seems to be the one thing we forget when talking about sex. Yet these are the consequences that are sinking this generation. Higher depression rates, lower academic achievement, growing number of students suffering from anxiety, increased dropout rates and less self esteem have all been linked to early sexual activity. In fact, in the last 10-15 years, many colleges have had to double and triple their counseling staff to deal with some of these issues, like depression and anxiety. And one of the first questions they are trained to ask is, "Have you been sexually active?"
That is why speaking honestly about the choice to wait to have sex is a powerful tool in seeing fewer teens contract an STD. Empowering teens with the knowledge to abstain can be life changing. But the message must do more than just focus on the physical. It must break down the barrier of language, going beyond don't to the why, and create a movement of teens that are better equipped to discern the many messages they hear in the media.
Abstinence is the safest and healthiest choice a teen can make for their future. Better grades, higher academic achievement, more money earned over a lifetime are some of the many benefits a teen and young adult can experience by choosing to wait for sex in a lifetime committed relationship. . . marriage. We just need to be willing to share this reality in a way that causes teens to listen.
That is why Project Six19 is proud to partner with CPYU in the sexual integrity initiative. On November 8 we will be presenting our Life Up Close curriculum. This school-based curriculum has been developed as a resource for youth workers, parents, church leaders and educators. During this one-day seminar we will discuss the social science surrounding early sexual activity, the need for media literacy, and our responsibility to talk about starting over while encouraging those that have chosen to wait to continue in their journey are some of the many topics that will be covered. Please consider joining us!
If you'd like to join us on November 8, you can get more info and register here.