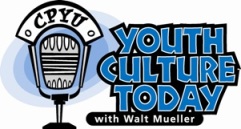 OK. . . we've got a secret. . . and we wish it wasn't so. Our secret is one of the many outlets we use here at CPYU to get information and analysis out to parents, youth workers, pastors, and others who desire to stay up-to-date on today's youth culture. The secret is our daily one-minute radio spot, Youth Culture Today. I'm thinking about this resource because I'm just a few minutes away from going into our studio to record the next 30 spots.
You may be wondering, "What can you say about a youth culture trend in 60 seconds?!?" I wondered the same thing when we got this started several years ago. Perhaps the best way to give you an answer is to have you listen to a spot. Just go to the Youth Culture Today page on our website, choose a show/topic, and give it a minute of your time.
Maybe you can hear Youth Culture Today on a radio station near you. We're currently on over 800 stations across North America. But to make it even more convenient, you can listen to the show online. We post two week's worth at a time. You can even look at the bottom of the page and subscribe to Youth Culture Today as an RSS feed or through iTunes. It's easy.
To our Youth Worker friends. . . I want to invite you to email or post the link to the show every day so that the parents of your students can tune in. It's one more way we want to help you be a hero to your ministry parents.
If Youth Culture Today is still a secret for you, change that! And remember, our purpose for the daily one-minute show is to make sure that youth culture secrets are secrets no more!