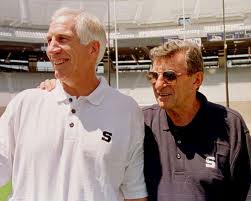 We have a picture of our son Josh with Jerry Sandusky. During his middle school years, Josh attended Coach Sandusky's local football camp. Meeting Sandusky was a treat. The guy worked under the legendary Joe Paterno, he was the defensive genius credited with creating "Linebacker U," and he cared enough about kids to start a foundation for kids. Jerry Sandusky was admired and respected for so many reasons. As the father of a football player, I was thankful for the opportunity afforded Josh to learn under a guy like this.
Now there's what's happening today. The allegations have been floating around for years. Now, there's at least enough credence to warrant his arrest. And the Penn State football program and community is hanging out there in uncertainty. The court of public opinion has been working overtime the last few days, with media outlets across the country hashing, speculating, and editorializing non-stop. . . a contemporary reality that makes it increasingly difficult for the greatest judicial system in the world to function at an optimal level.
In thinking about this story over the last few days, there are some themes that keep popping up in my head.
First, if these allegations are true, Sandusky has perpetrated some horrible, horrible things that have harmed and hurt far too many people. . first and foremost, the alleged victims. Whether you call them predators, child abusers, or creepers. . . these guys are good at lying, cultivating/grooming victims, and keeping up appearances. They're incredibly shrewd. I've seen it up close a couple of times in recent years, and it's scary. I liken what these people do to meticulously creating a bomb. When the bomb explodes, the fallout and shrapnel is spread far and wide. . . echoing on and on and on. The shock waves are rippling through Penn State as we speak.
Second, the legal process needs to be allowed to work. Let's not forget, Jerry Sandusky is innocent until proven guilty. We need to embrace that reality as if we were the one's on trial.
Third, the aftermath of these things can be so upside down. . . horribly upside down in fact. I have seen it happen and heard too many stories. . . blaming the victim while blindly believing and supporting the lying perpetrator. Reality is, they are such good liars that they can convince people that what really happened didn't really happen. . . even when the evidence that it did happen is undeniable. If the perpetrator is someone near and dear to us, many of us just can't and won't believe the allegations to be true. We might need to have the scales fall from our eyes.
Fourth, welcome to our contemporary world. In a culture saturated with sick and sinful distortions of God's good gift of sexuality, it's no wonder this stuff happens with increased frequency and depth. It's going to be happening more. That should make us wonder: if it starts to happen more, when will it be normalized, overlooked, and no longer criminal?
Sneaks are in our midst. When they're exposed or sniffed out, do everything you must to intervene so that future victims can be spared from having to deal with the detonation that will leave them broken and shell-shocked for the rest of their lives.
As you watch this story play out, learn from it.