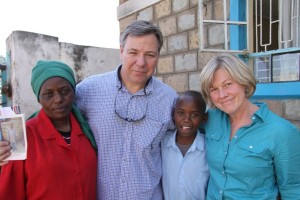 Thanksgiving is one week away. I thought about that this morning. Sadly, the thought was sparked by knowing that there's only a week to get any preparation finished. . . and there's lots to do. Realizing I needed to re-focus on giving thanks rather than the tyranny of the urgent, I started to scroll through the Rolodex in my head for a list of things to be thankful for. The Rolodex paused as I pondered a couple of things that happened yesterday.
Lisa and I had the privilege to go into our daughter's sixth grade classroom to talk about our trip to Kenya and Rwanda with Compassion International. She has her students studying the geography and culture of those two countries. She gave us a half hour to share some pictures and experiences related to the geography and culture. Her students paid close attention and asked some very insightful questions. Many of those questions centered on the nature of poverty, which afforded us the opportunity to help them understand the contrast between being a young person in America, and being a young person in Africa. While the morning wasn't about Compassion International, we did show them a couple of pictures of our sponsored child Ibrahim, who was their age when we visited him in Nairobi's Mathare slum a little over two years ago.
It was a great surprise to find a letter from Ibrahim when we returned home. Corresponding with your sponsored child is one of the great joys of Compassion sponsorship. Ibrahim's words at the beginning of his letter capture what the letters mean to him: "First and foremost, I thank the almighty God for helping us continue communicating together and you continuing supporting me." Those words mean so much to me.
After catching us up on what's been happening in his life (school, music, running races, etc.), Ibrahim ended with this request for prayer: "I hope you have the news that our country is in a disaster of drought and famine. I request your prayers so that we can come out of this disaster. I hope you will pray for my country Kenya. May the almighty God bless you."
Thanksgiving is one week away. I realize how much I've been given. Like you, I'm in the top 1% to 2% of the world's population in terms of my wealth. I am reminded of the responsibility I have to steward the Lord's resources. To whom much has been given, much is required.
Ibrahim and children like him all around the world have little to nothing. Sponsoring them through Compassion International gives them food, medicine, an education, and an opportunity to hear the Gospel and be nurtured in the Christian faith. Not only am I thankful for what I've been given, but I'm thankful that Compassion International can take the "loaves and fishes" of our gift of $38 a month and multiply it in ways that God uses to transform young lives. Because of $38 a month, Ibrahim and a million other kids like him have a present and a future.
I would like to invite you to give thanks this year by considering sponsoring a child through Compassion International. . . just click here.