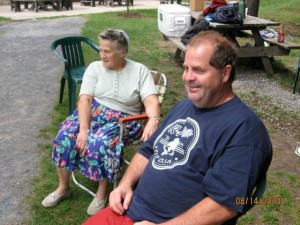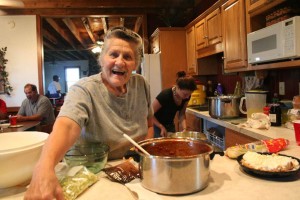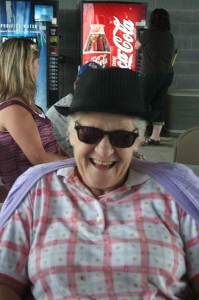 I've got a friend you need to meet. And if you're in Atlanta at the National Youth Workers Convention tonight, you will. . . but you have to keep it quiet. Verna Kline is in her 80's. She drove to Atlanta from central Pennsylvania yesterday along with the rest of the crew that staffs the On Fire Youth Center in Myerstown, Pennsylvania. Verna's been doing youth ministry for over 60 years! She loves Jesus. She loves kids. I've seen firsthand – over and over and over again – how much kids love Verna.
The amazing thing about Verna is that in an age where style is pursued over substance and relevance is believed to be a pre-requisite for effective youth ministry, Verna and her ministry prove just how faulty those assumptions and beliefs are. Verna knows that it's most important to be yourself, love Jesus, and love kids.
I first met Verna years ago. I live in central Pennsylvania. Verna is one of the prototypical Mennonite/Brethren women who populate our area and who pursue the most important things in life. Whenever I see her I want to ask her, "Verna. Can you bake me a pie?" In fact, I usually do! Verna's so busy spending time with kids that she passes that duty off to her daughter. Because CPYU is located in Verna's neck of the woods, I see her at our many area training events. She's a mainstay. Just two weeks ago I did a day-long training event and there was Verna for the entire day. . . sitting and paying attention. . . taking notes like there was no tomorrow. . . concentrating on everything I was saying. Verna is a living example of the Psalmist's commitment as written in Psalm 71:17&18:
17 Since my youth, God, you have taught me,
and to this day I declare your marvelous deeds.
18 Even when I am old and gray,
do not forsake me, my God,
till I declare your power to the next generation,
your mighty acts to all who are to come.
Verna doesn't know it, but there's a surprise waiting for her in the big room tonight. At some point, my buddy Tic Long is going to call Verna up on the stage to be honored for her years of youth ministry. When that happens, thousands of youth workers are going to get to see what youth ministry is all about.
If you're here in Atlanta, would you please do two things. First, don't let Verna know about this. I know she won't be reading my post because she doesn't use a computer or a smart phone. We're safe. And second, let's let Verna see and hear how much we appreciate her.