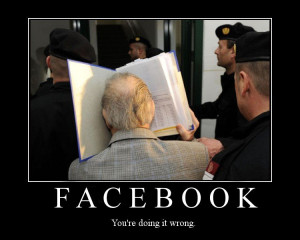 Social Networking. . . good or bad? It depends on the person using it. Like everything in life, we can use things to the glory of God, or we can use them to the glory of the world, the flesh, and the devil. With our default setting locked in on sinful self-promotion and narcissism, we really need to be careful. . . . and our kids are watching. We must be very, very intentional about modeling healthy and redemptive social networking habits, thereby nurturing kids into faithful use of these potentially great and potentially destructive tools.
It's these realities and a host of horrible stories that have prompted us to launch our Digital Kids Initiative here at CPYU. As we've been spreading the word, we've had some youth workers step up and share with us some ways that they've been intentionally redemptive about their use of social networking in their ministries. Kevin Vinay is one of those youth workers. Kevin's been very intentional and careful about how he integrates this stuff into his youth ministry at Pleasant Hills Community Presbyterian Church in Pittsburgh. In fact, Kevin stepped up and sent us some great stuff that I want to share with you today. Here's what Kevin's come up with. At the end, you'll find a link to a pdf Kevin put together that you can download and reference as you seek to integrate social networking into your youth ministry redemptively. Thanks Kevin!
The vast majority of teenagers in our ministry (and across our nation) use Facebook and text messaging as their primary forms of communication with peers. Because of this, our youth ministry staff makes great efforts to reach teenagers from our community by using these popular communication tools to their fullest potential. Here are few basic ideas to begin using Facebook and text messaging more effectively in order to proclaim the gospel to a greater number of students:
USING FACEBOOK:
First, create a Ministry "Like" Page. Tell students from your ministry to "LIKE" your page (do this at every major event!), and continually remind them to invite their Facebook friends to do the same. As the number of students who LIKE your ministry's page grows, the more free on-screen advertising you'll have.
Second, post with purpose! Consider the specific reason for each post. Right now, our ministry has committed to two scheduled posts each week. We post an "I Am Second" video at the beginning of each week (purpose: evangelism) and we post pictures and videos directly after our weekly youth group event in the middle of the week (purpose: outreach). "I Am Second" videos share the gospel. The pictures and videos entice students to TAG, LIKE, or COMMENT on our content. This makes our ministry more visible to all of their Facebook friends. We do create posts outside of the weekly plan for special events. But, even these posts have specific purpose and plan, and are high-quality.
Third, post routinely at specific times. Develop a schedule for specific weekly posts. This point is crucial to the effectiveness of your Facebook page! Be as consistent as possible with the day and time of your weekly posts. This creates a rhythm for your content. Once students realize that rhythm exists, they may begin looking for the Monday night video (our "I Am Second" video) or Wednesday night photos (our mid-week event content). Create and share your posts at a time when the majority of your students are online – probably later in the evening – so that there's a better chance they'll see it in their newsfeed.
Fourth, make sure your posts are high quality. Content should be clear and creative, fun and informative. Attach a picture to the post. Make a short, funny video instead of just typing out a message (flip-cams are a good investment). Catch their attention. It doesn't have to win an art contest or a Grammy, but it should be worth viewing.
Fifth, tell students to give feedback in your post. Studies show that people will give more feedback on Facebook if they're told to do so. Tell students to LIKE the video, TAG the photos, COMMENT and/or SHARE the content in their profile. This increases your ministry's visibility to more of their friends.
USING TEXT MESSAGES:
First, purchase a group text messaging service. "But it's expensive," you say. It's not too bad, and we've found that it's worth the monthly cost. Plus, if you use texting and Facebook effectively it will reduce the money you spend on postcards and newsletters (and time creating/sending them).
Second, tell your students to sign up (again, at every major event). Our students have signed up for the service, and now we can contact almost ALL of them instantly, and at the same time. We have a sneaking suspicion that students don't always read their snail-mail (call us crazy!), but we can guarantee they read our text messages!
Third, send event information and reminders. Students are notorious for giving the excuse, "I forgot." So, remind them about the event just hours – or even minutes – before it begins.
Fourth, consider the timing of your message. Send messages out when you know your students are with friends who aren't part of your ministry (right after school, during sporting events, etc.). Encourage them to invite those friends to the event that's coming next.
Lastly, integrate texting with Facebook. So you actually want to spend time with your family on a weeknight instead of sending out a new Facebook message? Fine. Post your info while you're at work, then schedule a text message for later in the evening that encourages students to check out the Facebook page. Text messaging services should give you the option to schedule future texts.
SOME CLOSING THOUGHTS:
If a new student comes to an event, inviting them to LIKE the Facebook page or sign up for the text messaging service is easy and it connects them to your ministry faster. Communicating with parents can still be done via snail-mail when necessary, although we do have a growing number of parents who look at the content online as well. But, it seems to us that the best way to reach students is to meet them where they are.
We are very cautious about what goes on our page, and several leaders are automatically notified by email as soon as a comment is posted on our page. This helps us delete negative comments very soon after they're posted. I've also followed up with students who have posted negative comments (in person) as a way to foster discussion about online integrity.
You can download Kevin's pdf here.
You can see how Kevin's integrating Facebook into his ministry here.