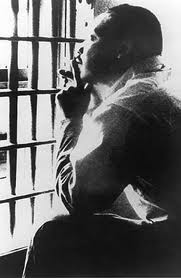 Today is Martin Luther King Day and we kicked it off with a great challenge here in our Ministry to Emerging Generations Doctoral cohort at Gordon-Conwell Theological Seminary. Virginia Ward – one of our students and a person familiar to many folks from her seminars at The National Youthworkers Convention – challenged us to be "pace-setters." That's our calling if we're followers of Jesus, isn't it? Our approach to matters of Christ and Culture (our subject last week in class) will dictate what kind of "pace-setters" we will be, if in fact we will be pace-setters at all.
Virginia then read an excerpt from Martin Luther King's "Letter from Birmingham Jail," a document I've read in the past. Today, however, these words to the church that King wrote in April of 1963 seemed so timely almost 50 years later. We are not called to complacency. Give them a read. . .
In deep disappointment I have wept over the laxity of the church. But be assured that my tears have been tears of love. There can be no deep disappointment where there is not deep love. Yes, I love the church. How could I do otherwise? I am in the rather unique position of being the son, the grandson and the great grandson of preachers. Yes, I see the church as the body of Christ. But, oh! How we have blemished and scarred that body through social neglect and through fear of being nonconformists.
There was a time when the church was very powerful–in the time when the early Christians rejoiced at being deemed worthy to suffer for what they believed. In those days the church was not merely a thermometer that recorded the ideas and principles of popular opinion; it was a thermostat that transformed the mores of society. Whenever the early Christians entered a town, the people in power became disturbed and immediately sought to convict the Christians for being "disturbers of the peace" and "outside agitators."' But the Christians pressed on, in the conviction that they were "a colony of heaven," called to obey God rather than man. Small in number, they were big in commitment. They were too God-intoxicated to be "astronomically intimidated." By their effort and example they brought an end to such ancient evils as infanticide and gladiatorial contests. Things are different now. So often the contemporary church is a weak, ineffectual voice with an uncertain sound. So often it is an archdefender of the status quo. Far from being disturbed by the presence of the church, the power structure of the average community is consoled by the church's silent–and often even vocal–sanction of things as they are.
Good, good stuff.