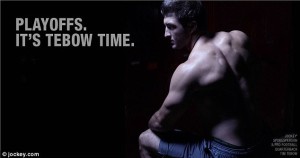 Tim Tebow was talked about quite a bit on Sunday night, into Monday, etc. That sure was fun to watch, wasn't it? Doesn't matter who it was taking the snap. That's the kind of great finish that we'll be watching over and over again for years.
Tim Tebow was being talked about today as well. USA Today ran this headline this morning: "Shirtless Tebow is Jockey Sex Symbol." When I read the story, my heart sank – more on that in a bit.
Tim Tebow was also being talked about in our Doctor of Ministry in Ministry to Emerging Generations class this morning. Adonis Vidu, our cohort theologian, led a discussion on H. Richard Niebuhr's classic book, Christ and Culture, and the various approaches we take in terms of the relationship between our faith and culture. In a brilliant move, Adonis asked our students to consider Niebuhr's five options in relation to all the buzz about Tebow and "Tebowing." The discussion was very spirited. I threw the Jockey ad campaign into the mix and the discussion got even more lively. It's a discussion that's sure to be continued when we get together again tomorrow morning.
Now. . . for the "more" on the Jockey ad. . . and why my heart sank. At the risk of sounding presumptuous, I spent some time today imagining what I would have said to Tim Tebow if he had come to me for advice. You know, asking something like, "Well, what do you think? Jockey's got an offer on the table. Should I take it?"
Let me begin by saying, I don't think there's anything wrong or unChristian about men without shirts. We see it at the beach all the time. But this is not a simple matter of deciding whether or not Christian men should walk around without a shirt on. It's just not that simple. . . although some people might make it out to be. It's far more complex. We need to think about our culture, the issues people are dealing with, and the message Jockey hoped to send. What would the intent of the sender be. Then, how would people in our culture receive it. With that as background, here are some thoughts I would have verbalized to Tim Tebow. . . if he had asked me. . . .
"Don't do it Tim. . . money, sex, fame, and power corrupt. Doing the ads are going to turn up the volume on the very temptations that could easily take you down."
"Don't do it Tim . . . we live in a culture where we are what we look like. Marketing has both created and perpetuates that idolatrous belief. By doing this, you'll be contributing one more compelling message promoting that belief. . . loud and clear. . . that only takes people deeper into this lie."
"Don't do it Tim . . . we live in a culture that increasingly celebrates pornography and feeds lust. No, the photos Jockey will take are not pornographic in and of themselves. But if anyone uses them to lust – and they will – then maybe it's best for you to keep your shirt on."
"Don't do it Tim. . . you are more than an object. You are a human being. You want people to see Jesus through you. You don't want to get in the way. You are a signpost. It seems that you already understand that. Don't compromise on that. You want to remain a signpost pointing to Jesus. You don't want people to only go so far as to lock their eyes on you."
"Don't do it Tim. . . you are a role model. You have been elevated as a Christian role model. Lots and lots and lots of people are watching. Most of them are young and extremely impressionable."
"Don't do it Tim. . . the eyes of the world are on you. They're looking to find or create chinks in your armor. Don't make it easy for them. Now, more than ever, you need to maintain your integrity."
Maybe it's the headline in the U.K.'s Daily Mail that shows us why Tim Tebow and other Christians need to think through context, implications, intents, and fallout: "Praise Jesus! Man of the moment Tim Tebow appears shirtless in new Jockey ad – and surprise, surprise – underwear sales soar."
The pressure's on for Tim Tebow. If he had asked me, I would have told him to keep his shirt on. . . especially in today's cultural climate. There's just way too much that could go wrong. . . if it hasn't already. Tomorrow morning it's my turn to teach our cohort. We'll be talking about the functions of culture. . . including the power culture has to map out our values, attitudes, and behaviors. That's another big reason why I would have advised Tebow in the way I've described.
We need to pray for him as we would for any brother or sister facing great pressure. Let's pray that he makes good decisions off the field.