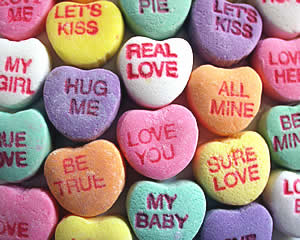 This is a day to be happy and in love, isn't it? At least that's what we're told by the good folks at Hallmark Cards and Whitman Chocolates. . . and the local florist. I was wondering though, how many of today's love stories have been either enhanced or destroyed by the amazing new technologies and media platforms that we've got at our fingertips? I'm sure you know many of these stories firsthand as they've played out in your own little circle of family and friends. I know I do.
These stories are well-worth pondering today for a simple little theological reason: We are broken people living in a broken world. We must recognize that our default setting is to indulge our depravity in every area of life. As followers of Jesus, our divine calling is to wholeheartedly pursue life, love and everything else as it was meant to be. . . what the Bible calls "Shalom" . . . or universal flourishing. We need to be conscious of both our default setting and our calling. . . especially as they relate to our closest and most intimate relationships, along with our use of social media.
As part of our Digital Kids Initiative here at CPYU, we've been looking at the blessings and curses of social media and technology. Take a look around and you'll quickly notice that social media is a blessing and a curse when it comes to existing relationships, new relationships, and reconnections. Knowing this can help us consciously employ safeguards that keep us from wandering down dangerous and destructive paths.
As a blessing, social media can be used to build our off-line real-world relationships. When I travel, I can stay connected in a variety of ways with my wife and children. It's amazing, really. I can follow-up with new friends I meet on the road, connecting the dots between them and resources that can help them in their real-world relationships. And as far as reconnections go, there are people from my high school years, college years, and old youth groups who I would have never been in touch with if it hadn't been for social media. Again, amazing!
But then there's the dark side.. . which is why we all need accountability and limits. Social media provides a "closet" into which we can escape to secretly enter into, build, foster, and indulge in destructive emotional and/or physical relationships. There are oppotunities to "flirt" and "dance" through our fingertips when nobody is looking over our shoulders. It can be the spouse tapping away on the other end of the couch. It can be the employee "working" in the office just down the hall. It can be the youth worker who spends too much time "alone" in inappropriate virtual relationships with their students. What we call "dangerous reconnections" is actually more of a problem for those of us who are older. We use Facebook to revive dormant and sometimes forgotten relationships, reconnecting with old flames. People don't typically join Facebook for this reason. . . it just happens while they are there. One prominent divorce law firm say that 1 in 5 current divorce petitions cites Facebook as the avenue that was used to make and keep connections.
This just serves as a little reminder to us all as we think about what we're told to think about on this day of red. . . be careful, aware, and on guard little heart. Because of your brokenness, you could wind up being your own worst enemy.