Sure, everything else in the world of the news media came to a screeching halt due to a high profile entertainment death on Saturday. This will consume the airwaves for quite some time, I'm sure. The news coverage reminds us of just how important and influential our celebrity role models are. They really do shape us, don't they? And last night we got to see the annual extravaganza known as The Grammy Awards. . . more proof of the fact that pop culture and celebrities do have worldview shaping power. . . as if we needed more proof. At one point during the day yesterday, I actually entertained the rather morbid and embarrassing (yet probably true) thought that those who had purchased commercial time during last night's Grammys were thankful for the death and its timing. More viewers tuning in to gawk and then build the ratings.
And that's where I think the big music story of the weekend really took place. . . at least in my mind. The Grammys. Yes, there was nicely written and delivered prayer from L.L. Cool J. The prayer was refreshing in the way that it expressed gratitude for a life and the God-given giftedness of that life. It also didn't – as many pop culture prayers do – function as a prayer for the dead. There was also that touching moment with Glen Campbell. Sure, most young viewers had no clue who he was. But his appearance on stage as he battles the Alzheimer's that will most likely take his life was a moving reminder that life is short, fragile, and very broken. Yes, the Grammys were filled with these and many other interesting moments.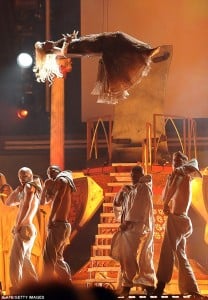 But what has stuck with me as the most significant moment of the night was also one of the most troubling and confusing segments in the show. When Nicki Minaj took the stage to sing her upcoming single-release, "Roman Holiday," it began dark and stayed dark, as some kind of exorcism was performed featuring one of the many alter-egos she conjures up. . . this one named Roman.
A few weeks ago we took some time in our Doctor of Ministry cohort at Gordon-Conwell Theological Seminary to talk about the Ellen Degeneres/Sophia Grace/Nicki Minaj moment that became a YouTube hit. We processed the significance of that moment that I had blogged about several weeks before. The next day, some of our African-American students offered us some background and perspective that was deeply troubling, including directing us to some video clips where Minaj describes things that many would label as demonic. That was troubling.
Last night was deeply troubling as well. I'm still trying to sort it all out, hoping to see where this story has come from, where it's heading, and just what might really be going on with Minaj. I would love to enter into some dialogue on this. I would encourage you to watch her Grammy performance (below). Then watch her explanation of her alter-ego "Roman" that was part of an MTV Documentary (below). Then take a look at the video clips from The Ellen Show. And after you've done that, take a moment to read Scotty Smith's timely prayer from his great prayer book, "Everyday Prayers." The prayer is dated "February 12." That was yesterday. Grammy Day.
A Prayer About a Fleeing Devil
"God opposes the proud but gives grace to the humble." Submit yourselves, then, to God. Resist the devil, and he will flee from you." James 4:6-7
Heavenly Father, at times I make things so much more complicated than they need to be. (Enormous understatement) This is certainly the case when it comes to spiritual warfare. When I look back over the years at all the different teachings I've had about "fighting the devil", much of it promoted more fear than faith… more phobia than freedom… more preoccupation with darkness than fascination with the Light of the World. Somewhere along the line, I missed the image of a fleeing devil. Alas, another arena for gospel-sanity.
Certainly Father, I know that I cannot afford to be naïve about the deceitful and destructive schemes of the enemy. Because of Jesus' cross, he knows his time is short and he is filled with fury. En route to his secured demise, he ramps up his seducing, tempting, distorting, persecuting, lying, accusing and condemning ways, every opportunity he gets.
But, even more so, I can no longer afford to be ignorant of how to resist the devil with the gospel. So today, Father, because the gospel is true, I humble myself before you. Only the gospel frees me to see and own my weakness and susceptibility to the devil's schemes. I'll not be sucker-punched by my arrogance and pride. I need the gospel today as much as the first day you justified me by the faith and grace you freely gave me. I trust you, in this moment, for all the grace I'll need to live for your glory in this one day.
Accordingly, Jesus, I submit to you as my Prophet, Priest and King, right now. You're my wisdom and my righteousness, my holiness and my redemption. I'll not boast in anything about me, I'll simply boast in you. I'll resist the devil's deceitful and damning ways by looking unto you, and pondering your beauty and bounty. With the eye of faith, I set my gaze on you, the author and perfecter of my faith. I'm not even going to glance at the devil as he flees. I just want to keep my eyes on you, Jesus. So very Amen, I pray, in your powerful and present name.
-Scotty Smith