The conversation was between me and two of the women in my life. . . my wife and one of my adult daughters. We were driving from church to Costco. The conversation began with some comments and questions about Fifty Shades of Grey, the first book in E.L. James' best-selling fiction trilogy. The books are all over the New York Times' Bestseller List and it seems like women everywhere are devouring them.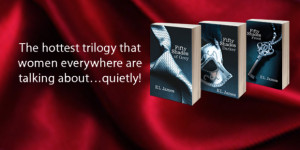 I listened as the ladies discussed the literary phenomena. None of us have read the books. But like everyone else, we've heard about them. During our short drive and conversation we talked about the content. We talked about the plot. And we talked how curious and disturbing it is that so many women are immersing themselves with reckless abandon in a work of erotic fiction that sounds like a Harlequin romance novel on steroids.
In case you haven't heard, Fifty Shades of Grey is about the exploits of a young college graduate and a businessman.
The story is summarized on
Wikipedia
this way:
"The plot traces the relationship between recent college graduate Anastasia Steele and manipulative billionaire Christian Grey. Steele is required by Grey to sign a contract allowing him complete control over her life. As she gets to know him she learns that his sexual tastes involve bondage, domination and sadism, and that childhood abuse left him a deeply damaged individual. In order to be his partner she agrees to experiment with bondage/discipline/sadism/masochism, but struggles to reconcile who she is (a virgin who has never previously had a boyfriend) with whom Christian wants her to be: his submissive, to-do-with-as-he-pleases partner in his 'Red Room of Pain.'"
As we discussed this current cultural trend, I wondered out loud about doing what I always think is the responsible thing when it comes to evaluating and commenting on a cultural artifact. In this case, the responsible thing is to read the book. The response from my wife and daughter was immediate and direct. . . and I'm glad it was. They told me I didn't need to go there. I was reminded of what I tell youth workers all the time. . . "Don't cross the line. . . and you know where the line is for you." Sometimes we need others to remind us of where our lines should be. I know that the directive of these two ladies was good advice. I'm not going to read this book. . . . for the simple reason that I don't need to look at pornography to know what it's about. And from everything I hear, Fifty Shades of Grey is literary pornography.
Upon arriving at Costco, I bee-lined to my favorite place in the store. . . the book table. It's a regular habit. As always, the book table was surrounded by browsers. The browsing was particularly dense on one side of the table. It was dense with women. What they were looking at and loading up on was a fast-diminishing pile of books. . . which happened to be the E.L. James trilogy. I eaves-dropped and quickly realized that everything I had been hearing and everything we had been talking about in our car was true.
One conversation in particular rattled me. A younger woman was holding the book and pondering the purchase. She had an inquisitive and slightly guilty look on her face. An older women standing nearby happened to see the same inquisitive and guilty look and decided to engage the younger lady in conversation. . . . a conversation that pushed the latter to a tipping point. "Thinking about reading it?", the older woman asked. "Yes, but I hear it's a little dirty," the younger woman replied. At that point, the young woman's husband appeared behind her with their cart. Noticing her husband was now privy to the conversation, the young woman turned a little red and muttered something about her husband showing up. . . as if the conversation needed to come to an end. She looked like a guilty kid who had been caught with her hand in the cookie jar. The older woman. . . probably in her mid-60s by my estimation. . . looked at her, gave her a little wink, and said, "It's ten dollars well spent." With that, the young woman placed the book in her cart. . . . and I watched her exchange a sly little smile with her husband. That was an interesting mentoring moment that says a lot about who we are and what we're becoming as a culture.
I've mentioned before that research shows that on any given Sunday, our church pews in evangelical churches hold people who struggle with pornography. That research says that 50% of the men and 20% of the women in those pews are addicted to pornography. My friends at Harvest USA define pornography as "anything the heart uses to find sexual expression outside of God's intended design for relational intimacy. It is anything that tempts and corrupts the human heart into desiring sensual pleasure in sinful ways." (It's well worth your time to read the full article that this definition comes from). In general, men are drawn to visual pornography. And in general, women are engaging with literary pornography. Fifty Shades of Grey seems to fit the bill.
And so we seek it out, we read it, we love it. . . and we don't see much wrong with doing any of those things. We're in trouble folks. Al Qaeda might as well just sit back and wait. . . we're doing a fine job of taking ourselves down. Anyone else hear Paul Simon quietly singing "Slip Slidin' Away"?