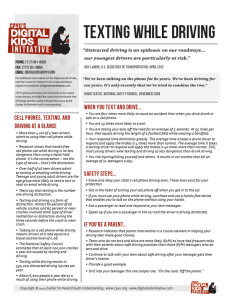 The other day my post asked whether or not the mix of teens and technology is good, bad, or ugly. I think it's got the potential to be all three. . . powerful potential. Certainly one of the "bad" and "ugly" byproducts of life on the digital frontier is the many types of distraction that now exist. We're all over the place thanks to screens and handhelds. It's hard to keep our eyes on each other and our attention where it needs to be. It's also hard to keep our eyes on the road.
One of the most pressing issues we need to address is distracted driving. When I'm out on my bike I can't believe how many people I pass are looking down at their cell phone screens. It's scary. Lives will be changed. . . sadly.
With that in mind, we've added something new to our Digital Kids Initiative here at CPYU. It's a brand new downloadable fact sheet on "Texting While Driving." It's FREE!
If you're a parent, download it and talk about it with your kids. If you're a youth worker, get it in the hands of every parent and every student you know. . . talk about it too!