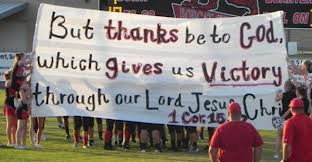 They say that everything's bigger in Texas. That's certainly the case with high school football. Last month I spoke in Allen, a suburb of Dallas. On my way to the church we took a detour to the community's brand new high school football stadium. . . the community's brand new $60 MILLION high school football stadium. The next week I was speaking in Minnesota. When I showed the folks there the picture of the stadium and mentioned the price tag, they quickly noted that it cost more than the Metrodome home of the Minnesota Vikings!
Texas high school football is in the news this week thanks to a highly publicized court case regarding the fight to retain the cheerleaders' right to create and display banners emblazoned with Bible verses. I really haven't followed the case that closely to be able to comment on the legal issues at stake. To be honest, it just doesn't interest me that much. But there are some aspects of the story that I think are worth thinking about.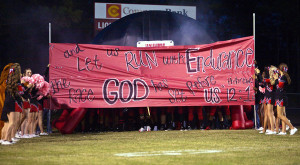 First, there's the whole matter of public displays of faith. Sure, our lives should reflect a minute-to-minute every-square-inch faith. The way I live, who I am, how I talk. . . it should all bring glory to God. . . in both my private and public comings and going. But why are we so insistent on equating discipleship with in-your-face public displays. . . as if they are more influential or even biblically-faithful than faithful and obedient living that goes about its business without an agenda that includes endeavoring to aggressively draw attention to one's self? Which of the two approaches is more powerful? Which of the two better reflects the mind, heart and will of Christ? Which of the two is rooted in humility? I'm just asking. And I think these are questions worth answering.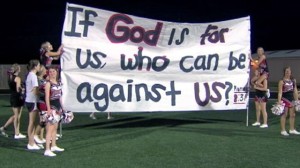 Second, there's the matter of sound and faithful use of the Scriptures. The banner slogans and their context are somewhat unnerving. I scoured the Internet for this story. . . and I was treated to a host of photos of cheerleaders and their banners. . . a few of which I've posted in this blog. Take a look at them. Does anybody else think there's some faulty interpretation, application, and use of these Scriptures in the context of an athletic context? And what should we think if two opposing teams were to run from opposite ends of the field through banners identically emblazoned with the words of Romans 8:31? Does God really care about who wins as opposed to how the two teams conduct themselves on the field? Again, I'm just asking.
This isn't a "Texas issue." No, this is a "youth ministry" and "Christian" issue.