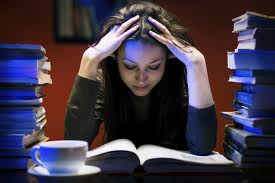 There's a trend in ministry. . . youth ministry included. . . that seems somewhat troubling to me. Maybe I'm just thinking too much about it, but the more I think about it the more I don't think that I'm overreacting. I'm not even sure what to call it. Maybe it's best for me to try to describe it. . . and then we can name it. In its extreme form it's been called plagiarism. We were steered away from plagiarism in elementary school when our teacher would simply tell us to "put it into your own words."
The worst case of plagiarism that I ever encountered in ministry was something I stumbled upon while doing a Google search for something I had written a few years before. As often happens to me with my scrambled mind and even more scrambled computer filing system, I couldn't find what I was looking for on my computer. Knowing that we had posted the article on our website, the quickest way to find it was through Google. And so I Googled the article's title. . . and it came up. But the first result in the search wasn't on our website. It was on the website of a church. Thrilled that someone had thought enough of the article to post it on their site, I quickly clicked on the link to see how the folks at the church had used the article. What I found put me in an a very awkward position. The article was posted on the church's sermon page. But it wasn't posted as my article. Sure enough, it was my article, but it had been preached by the youth pastor on one of his Sundays – word for word – and passed off as his own. I did follow-up with the youth pastor to let him know not so much that I was angry or hurt by his actions, but that he wasn't doing himself any favors by plagiarizing anyone's work. He apologized profusely (I think he was really really scared) and explained to me that he had been just too busy to write his own sermon. Even sadder was the fact that I wouldn't even consider the article coming close to being sermon material, but that's another story.
Which brings me to my concern over the troubling youth ministry trend. More and more, I'm finding that youth workers (and yes, even pastors) are buying, borrowing, stealing and using other people's sermons and lesson plans. Sure, the trend is being fed by an entire cottage industry that makes these things abundantly available online and in printed form. Where permission is granted by a publisher or individual who makes these things available, that's all fine and well. But does the practice somehow serve to dumb us down, make us less studious, and keep us from growing and developing ourselves in ministry?
A couple of weeks ago I had a great conversation with a new friend, Mark Kaminski, who is a young middle school pastor in Michigan. Mark was excitedly telling me about a teaching series he had developed for his students. I could hear the eagerness, conviction, and passion in his voice. When I asked Mark about how he puts his stuff together he told me that he has a hard time using pre-packaged curriculum. He explained that when he uses other people's stuff the passion just isn't there. For Mark to teach effectively, he has to teach what has become a part of himself.
Sadly, conversations like that are happening less and less frequently. It was refreshing to hear Mark talk about his reading, study, and writing habits. I know that there are many youth workers and pastors out there like Mark. But I also know that many of us have just gotten too busy, too sidetracked, and maybe a little bit too lazy to do the hard work of filling ourselves with regular deposits of spiritual depth from which we can make hefty withdrawals resulting in passionate ministry that flows from within ourselves and which we own.
Anybody can teach other people's stuff. More and more of us need to commit to going deeper to develop ourselves and the messages that will flow from that depth. What are you doing to read widely? To study the Scriptures? To study theology? To develop your message for your audience?
The Apostle Paul encouraged the young Timothy to be zealous in knowing the Word and how to handle it: "Do your best to present yourself to God as one approved, a workman who does not need to be ashamed and who correctly handles the word of truth." (2 Timothy 2:15). That's a good reminder for me this morning.