Brian Regan is a really funny guy. His comedic observations about everyday life make me laugh. His little bit on going to the doctor is a good one (see video below). In the middle of the bit, Regan ponders what it would be like to go the doctor with a cannonball wound. . . and the doctor shows you a list of how to avoid getting a cannonball wound in a preventive effort to get you to wise up ("#1 – Do not stand directly in front of cannon."). Regan drives home the obviousness of cause and effect, along with our unwillingness to live our lives wisely in light of cause and effect.
How come we're so stupid about these things. We know we shouldn't do things that we know are risky and might hurt us. Still, we choose to do things that we know are risky and might hurt us. . . and when risks are realized and we get hurt, we typically blame someone or something else.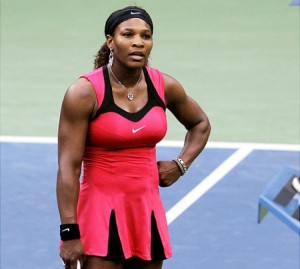 Tennis Star Serena Williams is taking a bit of heat this week for some comments she made in her Rolling Stone interview with Stephen Rodrick. Her comments brought Regan's cannonball wound bit and issues of risk to mind. It seems that the TV news was on during the interview. An update on the well-publicized Steubenville Ohio rape case came up on the screen.
If you aren't aware of what happened in Steubenville last August, it was a case involving a 16-year-old girl who passed out after drinking too much. While she was passed out, she was undressed and sexually assaulted by some high school football players. She was also photographed with pictures of and texts about the incident going viral from peer to peer. In March, two of the football players were found guilty of rape.
Back to Serena Williams and Rodrick. . . as the two watched the news about the Steubenville verdict together during the interview, Williams asked, "Do you think it was fair, what they got? They did something stupid, but I don't know. I'm not blaming the girl, but if you're a 16-year-old and you're drunk like that, your parents should teach you: Don't take drinks from other people. She's 16, why was she that drunk where she doesn't remember? It could have been much worse. She's lucky. Obviously, I don't know, maybe she wasn't a virgin, but she shouldn't have put herself in that position, unless they slipped her something, then that's different."
Rodrick included this account of William's comments in his Rolling Stone interview. Now, the backlash against William's opinion on the matter is picking up momentum.
I'm wondering if it would be best to look at the Steubenville case and liken it to standing in front of a cannon. The young men who perpetrated the rape and all those who participated as bystanders did something very criminal and very wrong. . . something extremely foolish. . . and the risk they took both hurt a 16-year-old girl and hurt themselves. Yes, they should be held accountable. . . and others who are watching the story should learn from it. But to stop there is not enough. As a dad and as a youth worker, I think I have a responsibility to my kids to not only clearly define right and wrong regarding the behavior of the boys and other bystanders, but to warn my kids about making risky decisions like the one made by the rape victim. . . a decision which resulted in her being in a physical state and place in time that made it easy for this crime to be committed. In other words, if you choose to put yourself in a risky location and/or if you choose to drink yourself into oblivion, you are choosing to stand in front of a cannon. . . and you might wind up with a cannonball wound.
Common sense, caution, and wise judgement are severely lacking in our culture. Borders and boundaries have been thrown to the wind. These realities should shape the way we converse with and nurture our kids as we work to equip them to live their lives to the glory of God.