I want to share some of the treasure that I've discovered with anyone who will take it or needs it today. It's a treasure that twenty years ago or so I would have taken for granted. . . perhaps not even being able to see its value. But today. . . I think differently. The shift came around fourteen years ago when I was in a period of spiritual stagnation. I prayed this prayer: "Lord, increase my dependence on you." He answered. What has come and gone over the years since praying that prayer are some times marked by crying out to the Lord.
During these times, I've been blessed with eyes open to things that I never really pondered or appreciated before. . . the Psalms of lament, the cries of Biblical characters who have nowhere to turn but to God, the stories of peers whose experiences I can now identify with, and the deep yearning of prayers to know God's presence.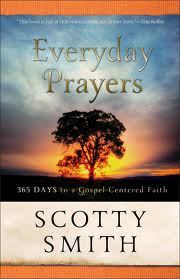 I've mentioned before that there are two prayer books that have become part of my daily routine. One is The Valley of Vision, a book of Puritan prayers that are rich and deep. The prayer book's title comes from the fact that it is in the blessing of finding ourselves in the valley that we have nowhere to look but up to catch a deeper and more meaningful vision of God. The second is Scotty Smith's Everyday Prayers. While Scotty and I have connected, we've never met face-to-face. But I know from praying the yearnings of his heart that we are kin on similar paths.
This morning. . . after a couple of particularly cloudy days for me. . . Scotty's prayer (see below) became mine. It's amazing how the Spirit leads me by the hand at just the right time to resources that I need. I am grateful to Scotty for his vulnerability. It is through vulnerability that we are able to bless each other. I'm guessing that there are others today who will benefit from pouring their hearts out to God with this prayer from Scotty's Everyday Prayers. . .
A Prayer for Showing Jesus When Feeling Stressed
But we have this treasure in jars of clay, to show that the surpassing power belongs to God and not to us. We are afflicted in every way, but not crushed; perplexed, but not driven to despair; persecuted, but not forsaken; struck down, but not destroyed; always carrying in the body the death of Jesus, so that the life of Jesus may also be manifested in our bodies. 2 Cor. 4:7-10
Dear Jesus, to compare my season of stress with the apostle Paul's would be like comparing my guitar playing with Phil Keaggy's, or my photography with Ansel Adams's, or my cooking with Bobby Flay's, or exercise regimen with the Rock's. There's simply no comparison. When I consider everything Paul experienced as your servant, honestly, I have nothing to bemoan, groan, carp or harp about.
Nonetheless, Paul's honesty is a great gift to me this morning. His freedom to acknowledge both his anguish and his joy in the same paragraph gives me tremendous encouragement and focus. Posing and pretending were crucified at Calvary. Despair and hopelessness were sabotaged by your resurrection. Merely sucking-it-up and perpetually pulling up bootstraps are expelled by the gospel.
Jesus, help me to be far more preoccupied with the treasure within than with the pressures without. If your all-surpassing power will be shown most dramatically through my weakness, I submit to your will. If your incomparable beauty will be most clearly revealed through my hardships, I surrender to your ways. If your redeeming purposes will be most fully realized through my brokenness, I surrender to you with joy.
With my palms up, I offer you praise for the treasure of the gospel. The gospel will win the day, my heart, the nations, and the cosmos. Though there are seasons when throwing in the towel, finding another story, or just flat running away are incredibly attractive, where else would I go but to you? You alone give the words of life, the sufficient grace, and the hope of glory. May your voice be ten times louder than the murmurings around me and the grumblings inside of me.
Jesus, in the coming hours and days and weeks, prove the wonders of your love. So very Amen I pray, with hungry expectancy, in your powerful name.