No doubt, this week's hot topic just about everywhere is what so many saw on TV on Sunday night. . . . and if they missed it, everywhere else since! While it might be easy to conclude that the blame needs to be placed on one young woman (Miley Cyrus) and one young man (Robin Thicke) for the over-sexualization of children and teens, it's more accurate to conclude that they are poster children of the moment for some deep-seated and long-running sexual attitudes in our culture.
We've been saying for years here at CPYU that culture is both directive and reflective. It is both a map and a mirror. It shows and tells us who we are how we are living. And, it shows and tells us who we should be and how we should live. In other words, Miley Cyrus and Robin Thicke are both a product and producers of these values, attitudes, and behaviors. They've been taught. . . and now they are in turn teaching. So. . . why should we be surprised by what we saw? We're reaping what we've sown.
I've been thinking about these things along with the rest of you over the last few days.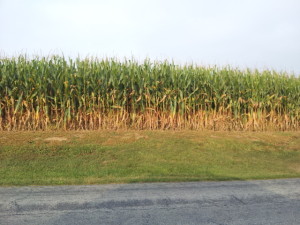 While driving through a neighboring town yesterday I saw a couple of things that made me think even more. The first was this corn field. There's a lot of corn here in Lancaster County. During my recent bike rides I've passed through miles of corn fields. At times, the corn forms a beautiful gauntlet that hems me in as I ride quietly down these peaceful roads. The other day I passed an Amish farm where a couple of the guys were starting to do what farmers all around here will be doing in the coming weeks. . . that is, harvesting corn. I've lived here in this beautiful place for a long time so I've seen the routine with every passing year. But what I've never seen is a farmer standing at the side of one of his corn fields at the end of the summer, scratching his head and wondering, "How did this happen???" I've never heard a bewildered farmer who's looking at his corn say, "Where did this come from?!?" No, they have corn to harvest because it was corn that they planted. The seeds went into the ground several months ago. They put them there. Those who planted the seeds looked forward to this day. They knew that corn was coming.
Which leads me to this question. . . . Why can't we and don't we see that the seeds of ideas, ethics, and values that we're planting in the fields of our culture (media, family, community, etc.) will bring a harvest down the road?

Today, I'm thinking specifically about the horrifying ways we are nurturing ourselves as men to treat women (go back and watch Robin Thicke's performance), and the ways our culture is nurturing girls to treat themselves and allow men to treat them (go back and watch Miley Cyrus's performance). If we map and mirror the fact that people are nothing but sexual objects, should we be surprised when people become nothing but sexual objects?
I'm also thinking about the stories I read in today's newspaper. The front-page headline about the local 73-year-old man who was given 50-100 years in prison for kidnapping and sexually molesting a 5-year-old girl last month. Or how about the 37-year-old man – a school principal in Pittsburgh – who allegedly exposed himself to a 17-year-old boy in a health club sauna. Or the ongoing story about the Montana man, a former teacher, who raped a 14-year-old girl who then took her own life. And then the story about the latest Jerry Sandusky appeal. Yes, these are all criminal cases and recognized as such. They should be.
But here's my concern: If we choose to nurture ourselves and our kids in an over-sexualized culture, should we be at all surprised if these stories continue to increase as the years pass? And, in a world with changing standards, will these more frequent stories become less frequently reported because they are so frequent. . . and even accepted as normalized behavior? In other words, will we get to the point where we assume that "That's what men do" and "that's just what women do?"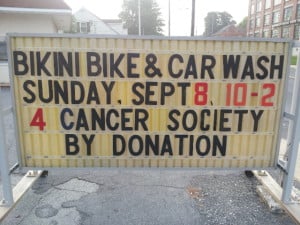 So, there's this second thing I saw on my ride yesterday. . . and here's a photo of it. It's a sign promoting a fund-raiser for a well-deserving cause. But just as the car wash is raising much-needed money to battle the devastating scourge of cancer, does the way in which the funds are being raised promote another kind of cancer. . . the "cancer of dehumanizing objectification?"
If we plant corn in the field today, we can't stand on the side of the field at harvest time. . . scratching our heads. . . and wondering, "How did this corn get here?!?"