Here's a little secret that I haven't told many people. . . it involves a conversation with a counselor several years ago. At the time, I was dealing with some burn-out issues and what was labeled as "borderline depression." It was time for me to invite someone outside of myself and my close circle of family and friends in to the issues to help me sort them out. For the record, I've battled both of those demons on and off since then.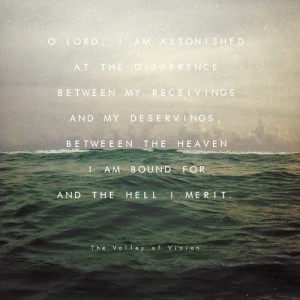 The little secret is what I told the counselor as I worked to explain what was happening in my life. "If I ever write my memoir, the first chapter will be titled '1956-1999.' And, the chapter will only be six words long: 'I've had a relatively easy life.'" I went on to explain that while I was dealing with the self-realization of spiritual stagnation back in 1999, I prayed this prayer: "Lord, increase my dependence on you." I wanted to grow. I've since learned that God will answer that prayer. And, his gift – yes gift – is oftentimes all kinds of pain and suffering.
While I'll spare you the description of the ongoing fountain of "blessings" that God has sent my way, one thing is constant and sure: it's the dark places, the wilderness, and the valleys where God meets us and takes us deep into our understanding and experience of who we are, who he is, and our dependence on him. I've realized that the pain and suffering we so desperately want to avoid is exactly just what we need. It's when we can do nothing but drop our arms at our side and cry out to God, "Ok God! I've got nothing here," that we realize our need for and dependence on Jesus.
I was thinking about that this morning when I opened my email and saw the latest post from my friend Byron Borger on his Hearts & Minds Bookstore blog. I love Byron. I love his love for books, and reading, and learning. It is absolutely contagious. I love his Hearts & Mind Bookstore. Not only is his store a hidden gem, but his Booknotes blog serves so many of us as a gateway to good reading and to spiritual growth. Today's post was a good one – "5 New Books on Pain and Suffering." It was so good, that I want to share it with you. . .
5 New Books on Pain and Suffering – from theologian Tim Keller to peacemaker Jeremy Courtney to "The Dave Test."
I was unloading, as I sometimes do, about the hard stuff in my life, grief and a general dismay at the state of the world, with my friend Brian Walsh. His campus ministry faith community and the writings that come out of it (Wine Before Breakfast and Remixing the Empire) have a keen sensibility about the brokenness of this world and often hold a posture of lament in solidarity with those who suffer. I don't know anybody who has taken Walter Brueggemann's The Prophetic Imagination and its call to weep subversive tears so seriously. This comes through in Brian's co-authored books such as Truth Is Stranger Than It Used to Be and Beyond Homelessness and clearly in his wonderful study of the Canadian poet/rock star Bruce Cockburn, Kicking at the Darkness: Bruce Cockburn and the Christian Imagination. In that book, Walsh shows us some harsh material that Cockburn sings about. But he reminds us that Cockburn sings that "Joy Will Find a Way." We can believe the singer because he understands the hard stuff "out on the rim of the broken wheel."
Anyway, Brian replied to me citing a song I love, from one of Cockburn's fellow musicians and producers, Colin Linden, who sings that it is a "sad, sad, sad, beautiful world."
"Three sads and one beautiful," Brian wrote.
Yep, for most of us, this is so, or nearly so.
When I was first becoming a Presbyterian, and learning about Calvinism and amazing grace, many in my circles talked about our sinfulness (rightly so; without an awareness of our great need, what good is the gospel of Christ?) But even then, I protested: in a sinful world, people are not just sinners, they are, inevitably, sinned against. As Cornelius Plantinga puts it, in the best book on this topic of sin, we have "vandalized shalom" and things are Not The Way It's Supposed to Be. In a good world now frayed, we are wrong, rebels, but we are wronged, too. We hurt (and I mean that in both meanings.) So, yes, our doctrine of sin leads us to give an account of the various ways things are haywire. Sometimes pain and sorrow is of our own doing, sometimes it is just because of the way of the world. Who knows why there are tsunamis and terrorists and cancers and car-wrecks? Why do we shed tears at this, but maybe not at that? I tend not to think about it much, really, but carry the weight of it with me always. Don't you?
I can hardly wait — speaking of such things — to tell you that my dear friend Steve Garber has a new book coming in the winter; I will surely tell you more sometime in the New Year. In some ways it is a sequel to Fabric of Faithfulness, and, among other things, it asks a question something like this: "Can we really know the world, and still love it?" That is, knowing the sad, sad, sad world, can we still say (as Colin Linden sings) that it is beautiful? Can we take up vocations with Christ-like care, knowing what we know, carrying what we carry? I don't recall that Steve cites him, but in his own words and way, he invites us to live into the vocation to which Henri Nouwen calls us, to be "wounded healers." To care deeply over the long haul of our lives we must learn to love what God loves, even as God does, especially as we come to know more and more that the world is terribly broken.
It's a sad, sad, sad, beautiful world. And joy will find a way.
So, here are five brand new books that take up this matter, each in their own genre and style. Continue reading here. . .and there's a nice discount offer at the end!