There was something about last night's Grammy Awards show that was both quite cool and quite telling. As one who grew up on the younger side of the 60's "generation gap" and one who is now on the older side of today's "cultural-generational gap," I loved the cross-generational flavor of the show. It was a brilliant move that's reflective of where our culture is headed. . . I hope. In fact, the church has much to learn from the inter-generational nature of The Grammy performances (several instances of old and young, yesterday and today, performing together). For too long, many in the church have succumbed to marketing's generational segmentation by keeping the generations apart, especially when it comes time for corporate worship. Big mistake. . . a mistake that tears apart rather than builds up the Body of Christ.
The phrase "come together" was on my mind as I watched last night, helped along – of course – by the appearance of the two living Beatles, a foursome who beckoned us in that direction with their song of the same title back in 1969. . . right at the height of the generation gap by the way.
The Grammys also offered compelling evidence of the continued breaking down of the walls of division between musical genres. When hip-hop shares the stage simultaneously with country, and a classical pianist performs with Metallica, well, that's evidence of something deeper happening that leads to good things. Could it be that destructive prejudices of all types that need to disappear may be disappearing?
In addition, one could not help but notice the diminishing of some of the thoughtless, formulaic, and shallow silliness that's marked popular music in recent years. Music seems to be more thoughtful. Again, this is a good thing. . . for sure.
But as some walls crumble that need to crumble, I fear that we're breaking down some borders and boundaries that matter. . . borders and boundaries that matter because they've been set by the One who wants us to flourish as we seek out and embrace things that reflect the way life is supposed to be. And much of that plowing through walls is being done in the name of the One who erected those life-giving borders and boundaries in the first place.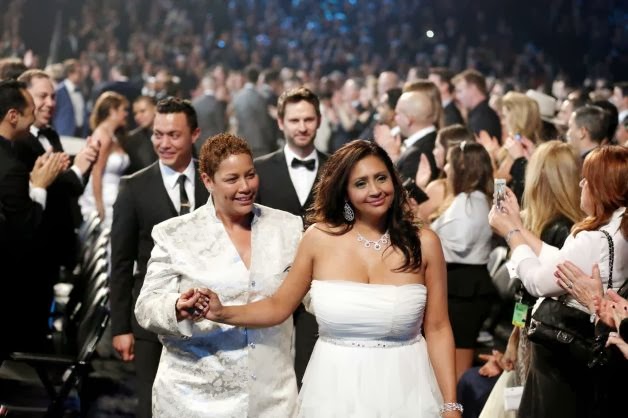 I think that the most significant moments of the evening came as Macklemore performed "Same Love," a song that I blogged about back in October of 2012. At that time, I posted
a series of 3 blogs
that processed the song, it's message, and the role it might play in some bigger things happening in our culture. The song and its message have far exceeded what I thought at the time. Just three months later, one of our doctoral co-horts at Gordon-Conwell spent time watching and chatting about the song, along with the role it might play as a map and mirror for our culture. And just two months after that, I was a part of a conversation among people I love dearly where the full spectrum of stances on same-sex attraction were stated and defended. I was troubled. At that point, I started to read, study, and pray my way through this complex issue, knowing that something was happening in our culture and in the church. . . and it was happening fast.
Last night, when Queen Latifah stood on stage and performed some kind of marriage ceremony for thirty-some couples – many of them same-sex – I realized that another wall has crumbled. Another border and boundary has been pushed and even crossed. Our culture is pushing and crossing in the name of tolerance and love. The pushing and crossing is happening as well among those who profess a commitment to Christ. Sadly, this is what happened with God's first children, when they decided that they knew better than God Himself.
There are many areas in my life where grace and truth are out of balance. When God does me the favor of revealing those areas to me, I need to rely on Him to change me. I pray that I would maintain that tender and tenuous balance between grace and truth on this pressing issue. Truth must precede and shape grace. Grace must temper our bent to self-righteously trumpet truth without care, concern, or sensitivity to people. In addition, truth must shape culture, rather than culture shaping truth. And when the balance is struck, it will be a beautiful thing. . . not easy. . . but beautiful, because God will be glorified.
Today I am praying for myself and for my brothers and sisters in Christ. . . . that we would find that sweet spot where we need to live on the issue of same-sex attraction. I fear, however, that we are crossing lines – all with good intentions, albeit (after all, we need to love people, don't we?) – in ways that leave us throwing out the baby Jesus (and His call to discipleship) with the bathwater of our erroneous and Pharisaical ways.
This month, I'm reading through Paul's letter to the Romans. There's so much to apply. This morning I pondered the horrifying words of Chapter 1, where we read about those who exchange the truth of God for a lie, and the subsequent step God took to "give them up" to their passions. And then I read Paul's descriptor of Israel's unbelief: "My heart's desire and prayer to God for them is that they may be saved. For I bear them witness that they have a zeal for God, but not according to knowledge. For, being ignorant of the righteousness of God, and seeking to establish their own, they did not submit to God's righteousness." (Romans 10:1-3).
We are over the line. . . in good ways, and in bad.
Father, make things clear to us, we beg.