The other day a youth worker friend messaged me while he was sitting through a youth worker training event. These places are where I live and have lived for so many years. Because of my habitual culture-watching default setting, I multi-task while presenting at youth worker conferences. Yes, I do audience ethnographies at the same time. Sorry. Can't help it.
His humorous message, while initially funny, really got me thinking about our youth ministry tribe and even the church at large. He said, "I've never seen so many plaid shirts, skinny jeans, and dark-rimmed glasses in one place." He was doing an ethnography as well! He didn't say anything about hair styles, but I'm guessing there had to be an army of "undercuts" in the room. . . hairwise that is! Ten years ago that room would have been filled with shaved heads and goatees.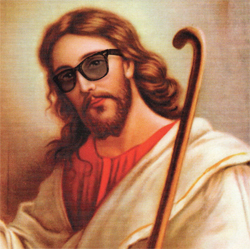 We've always been tuned in to style, haven't we? There's nothing wrong with style. But it can become too important, can't it? We're. . . all of us . . . nurtured into this by a marketing culture that tells us that if we dress in yesterday's styles we're not only so yesterday and so out-of-date, but we're also irrelevant. Sadly, style has come to determine validity. This was always a bit of a problem in our youth ministry world. But with the growing development and influence of marketing and branding. . . along with the advent and spread of social media. . . it's gotten even more intense.
The other day I encountered some insightful words from J.I. Packer that I believe are related to all this. Style is not only now an indicator of personal relevance, but even the hinge on which theological relevance and truth sit. Packer sends out a powerful warning regarding the Spirit of the Age (Zeitgeist) and how we in the church have been conditioned by our culture (marketing?) to always pursue, believe, and embrace the latest and the greatest: "The newer is the truer, only what is recent is decent, every shift of ground is a step forward, and every latest word must be hailed as the last word on its subject."
Social media (promoting our "brand" and selves), hipsterism (or whatever is the style du jour we adopt to cultivate our "brand" and selves), and our frantic pace of life (too busy to invest in anything too deeply other than maintaining our "brand" and selves) are three of the threads we have to be careful about in the church. In combination, these powerfully nurture this kind of shallowness. When and where I see all three combined, I tread carefully. I've come to learn that it's dangerous groud. Why? Because style is usually overflowing in abundance, while substance suffers and is notoriously absent. Part of the reason for this is that what's current is the only thing in our field of vision. We believe that what's current should be the only thing in our field of vision. Consequently, we discount a rich history and bank of accumulated wisdom that we write off simply because it's from yesterday. . . and then "so yesterday."
While researching Packer's words, I came across these related quotes from C.S. Lewis posted by my friend Steve Kilgore. Lewis wrote this about what he called "chronological snobbery": it's "the uncritical acceptance of the intellectual climate common to our own age and the assumption that whatever has gone out of date is on that account discredited.  You must find why it went out of date. Was it ever refuted (and if so by whom, where, and how conclusively) or did it merely die away as fashions do? If the latter, this tells us nothing about its truth or falsehood. From seeing this, one passes to the realization that our own age is also 'a period,' and certainly has, like all periods, its own characteristic illusions. They are likeliest to lurk in those widespread assumptions which are so ingrained in the age that no one dares to attack or feels it necessary to defend them. "
Truth is truth. And as Francis Bacon once said, "Histories make men (and women) wise." Let's not sacrifice truth, our rich history (the saints who have gone before us), or even our ministries on what is the well-intentioned yet misguided altar of relevance.
When my friend Rich Van Pelt was honored this last weekend at the National Youth Workers Convention with a Lifetime Achievement Award, he said something incredibly wise to all of us in the room. Rich said, "You take care of the depth of your ministry. Let God take care of the breadth of your ministry."
Is our obsession with style, social media, branding ourselves, and relevance more about cultivating the depth or the breadth?
(Here's a great related blog post I found when I googled "Relevant Hipster" . . . thought provoking: "Ageism In The Age of Hipster Christianity")