Thirty years ago this week God led me into a conversation that changed the trajectory of my life and ministry.
I was finishing up my time on campus at Gordon-Conwell Theological Seminary. I was sitting quietly outside a faculty office in an out-of-the-way hallway, waiting to hand in a final paper to a Christian Education professor. While waiting, a professor I had never met or had for a class came bounding (yes, bounding!) out of his office on his way to lunch. Out-of-the-blue, he stopped in front of me and put out his hand. "I'm Dan Jessen," he eagerly said. . . and I introduced myself. He asked me about my status as a student and I told him that I was a few days away from leaving school to get back into local church youth ministry at a church in the Philadelphia suburbs. Then, he asked me this. . . "What are you going to do with parents?"
Gulp.
I proceeded to tell him that I was going to do with parents what I had done with parents in my prior-to-seminary youth ministry position. I was hired to minister to kids. I was closer in age to the kids than their largely clueless parents. Consequently, I would pull the parents together about two or three times a year for a Parents' Meeting to tell them about what was going on in the ministry, and then I would get back to the business at hand. . . which was, ministering to their kids. . . because, after all, I understood those kids and their needs better than their parents ever could.
In hindsight, I'm happy that my answer communicated a kind of "satisfy the parents and then get them out of my hair" arrogance that I wasn't intentionally trying to communicate, but certainly was the case. The reason? It sent Dr. Jessen off on a passionate 5-minute theological lecture that changed my entire ignorant and arrogant approach to ministry. "Listen," he said. "I've been doing youth ministry for a long, long time. Spiritually, kids become just like their parents. If you aren't consciously ministering to parents, you aren't ministering to kids. And," he said, "the Scriptures are clear: parents are the ones who are primarily responsible for the spiritual nurture of their kids. As a youth pastor, you are a secondary influence."
Gulp. . . and true.
I walked away from that incredible encounter changed in significant ways. I got to Philly and everything we proceeded to do in our youth ministry is what is now referred to as "family ministry" or "family-based youth ministry." Very quickly, the approach became obvious to us. . . second-nature. . . it informed all that we said and all that we did. To us, it wasn't at all novel. It was simply the right thing to do. We saw parents and their kids grow in significant ways. It was truly transformative.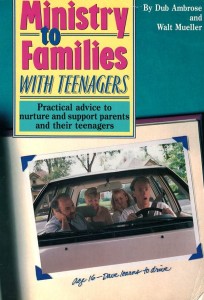 Sadly, it was not widely understood in our youth ministry world at the time that this approach was both right and biblically obvious. I was surprised to learn that was the case when a Group publishing editor approached me and asked if I'd write about what we were doing because, he said, it was a bit novel. What resulted was a book, Ministry to Families With Teenagers, published in 1988. And then, after our dads and moms in our ministry came to ask me to help them understand the unique cross-cultural ministry context of their kids, The Center for Parent/Youth Understanding was birthed in 1990. For the past 26 years of my time with CPYU, we've been all about equipping parents to effectively fulfill their primary responsibility, while equipping youth workers to effectively serve parents as a secondary spiritual influence.
So, you see, I'm most grateful to God for the gift of Dan Jessen and his bold honesty in that "chance" encounter 30 years ago this week.
This morning while, I pulled my copy of Ministry to Families With Teenagers off the shelf and started to leaf through it for the first time in over a dozen years. I read these words that I wrote back in 1988, and believe that they have proven true (as so many of you know from your own life and ministry!) over and over again: "The key ingredient for successful and effective ministry to teenagers is ministry to and with their parents. When we seek to evangelize, disciple, support, train, educate and equip parents to fulfill their roles as Christian parents, the odds are greater that our group members will develop a meaningful commitment to Christ that's characterized by long-term spiritual growth." 
The question I want to ask of you is the same question that Dan Jessen asked me 30 years ago this week. . . "What are you doing with parents?"