Back in the early days of CPYU, I was doing a lot of reading in the area of what was being called "Character Education." At the time, a growing number of educators and cultural analysts were decrying the decline of character in our culture and schools. With institutions fragmented in terms of the character messages they were sending kids, with families increasingly fragmented and failing, and with schools suffering the consequences of the decline of character as seen in bad behavior, the character education movement was birthed out of necessity.
A quarter century has passed since then, and one could reasonably argue that our individual and corporate character has continued to decline. Have you watched the news lately? The proof is there. . . both in the types of stories the news reports, and in the manner in which the news chooses to mediate and report those stories. The proof is also living in our own communities and homes.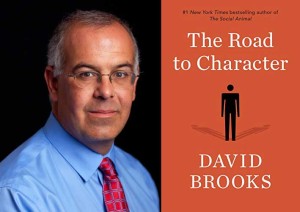 For the last week or so I've been slowly reading and pondering a new book on character. . . and it's one that's sitting today at #2 on the New York Times Bestseller list. It's social critic and columnist David Brooks new book, The Road To Character, an engaging call to move out of our tendency to cultivate our exteriors (seeking wealth, fame, and status), to instead focus on cultivating our interior virtues (kindness, bravery, honesty, faithfulness, integrity, etc.). It's good. . . and once again, reading Brooks leads me to the conclusions that 1) I will read every book he ever writes, and 2) I would love to have dinner with the man.
In the introduction, Brooks writes about the great paradox between what our culture values, and what build's true character. . . ."We live in a culture that teaches us to promote and advertise ourselves and to master the skills required for success, but that gives little encouragement to humility, sympathy, and honest self-confrontation, which are necessary for building character." Yep. . . that's a great summary of our narcissistic, self-obsessed, selfie-taking, self-curating culture.
People of character, on the other hand, live by a different set of logic. "You have to give to receive. You have to surrender to something outside yourself to gain strength within yourself. You have to conquer your desire to get what you crave. Success leads to the greatest failure, which is pride. Failure leads to the greatest success, which is humility and learning. In order to fulfill yourself, you have to forget yourself. In order to find yourself, you have to lose yourself."
Perhaps you've heard these same things uttered by the one who came to turn the world right side up again. Perhaps we would all do well to consider His whisper over above the non-stop calls to self-fulfillment that scream at us 24/7. They do nothing but steal, kill, and destroy character.
Brooks' message is for us all. I, for one, need to hear it.
On Saturday morning I walked and listened for an hour to Brook's speech on the Moral Journey at the Chicago Humanities Festival. It's worth. . . well-worth. . . 58 minutes of your time.
Please give it a listen. . .