Was it the best? For me, it certainly ranks up there on my list of TV favorites and is probably at the top of my list. I'm still trying to figure that out. But whether it ranks at #1 or #2, one thing is sure. . . the Mad Men story as created and told by Matthew Weiner was absolutely brilliant and compelling.
On a personal level, Mad Men served as recounting of my life as its depiction of American culture runs from 1960 until 1970. . . the years from which I lived through the age of four to the age of fourteen. It was my childhood. It's depiction of cultural realities and suburban life run true to so much that I remember, not in my own home, but in the homes scattered throughout our rather well-to-do neighborhood. The cultural references are accurate in so many ways. . . from the news, to cultural shifts, to the tobacco, to the set directions. . . everything really. They nailed it.
But Mad Men depicts much more than the culture of the time, and that's where the value of the show really shines. As Don Draper's story and the stories of so many other characters played out and wove in and through each other, what Matthew Weiner portrayed so well is the human condition in all of it's horrible brokenness. Never was Don Draper's philandering glorified. In fact, with each new encounter, Draper was portrayed as more broken and empty than he had been before. Even Weiner's unfolding history of Madison Avenue served to remind us all that we are broken, hungry, and longing for wholeness. That's why the ad men of the times had jobs, and they learned well how to exploit our emptiness and yearnings with promises to fix it all. Without ever directly saying it, Mad Men testifies to so many realities in God's story. . . Creation, Fall, and the longing we all have for Redemption.
In my own childhood, the real-life Mad Men stories that were lived out in the families of my neighbors and friends stood in clear juxtaposition to the story my parents passed on to us kids. We knew about Creation and Fall. . . and we were pointed to the one true source of Redemption. Sadly, at the close of last night's final Mad Men episode, Don Draper was on his way, but aiming at the wrong target. We can only wonder and hope at how his story ultimately ends.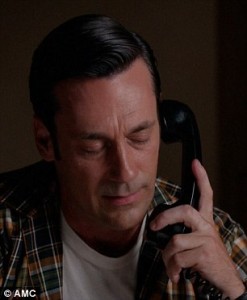 The talking points Matthew Weiner gave us in Mad Men are many. . . too many to recount here. But there was one moment in last night's finale that has stuck with me in a powerful way. In one of the episode's final scenes, Don Draper picks up the phone and comes clean to his young protege, Peggy Olson. In his "goodbye" to her, he says, " I messed everything up. I'm not the man you think I am."
If we are all Don Draper. . . horribly broken and in need of redemption. . . then our feeble efforts to fix ourselves and find peace usually lead to the re-writing of our own selves and stories as we think they should be. As followers of Christ, we know that we cannot save ourselves. Every effort to do so is an exercise in futility. But so few of us know that or even hear that. In the process, we wind up curating ourselves into people that we really aren't. What results destroys us even more. Vulnerability is squashed. True community is impossible because the me you relate to is not the real me.
Don Draper constructed and re-wrote his story in a pre-social media world. Could it be that in our social-media saturated world the writing, revision, and make-over of self is so widespread and severe that more and more of us are actually as  or even more adrift and off-course as Don Draper? If that's the case, then Mad Men should serve as fair-warning of what we are doing to our selves.
"Come to me, " says Jesus, "all you who are weary and burdened, and I will give you rest" (Matthew 11:28).