This might be the topic that sets me up for the most pushback. . . but bear with me here. I'm writing this because of the one questions youth workers have been asking me more than any other over the last couple of years. The question typically comes after I teach on engaging kids in discussions on how the Scriptures speak to real-life topics and situations thrown at them by a rapidly changing culture. . . things like movies, books, music, social media, and other cultural artifacts that form the beliefs that yield behaviors.
The question typically goes something like this. . . "I get what you're saying and totally agree. But in my church I get pushback from the homeschool parents who don't want their kids talking about these things. What do you suggest I do?"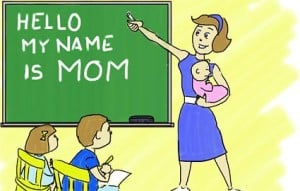 Over the years this question and variations of it have come more frequently and with greater and greater frustration on the part of the inquisitive youth workers. I've come to understand that typically, the tension comes when youth workers who are concerned about the influence of culture on their kids, and parents who are equally concerned about the influence of the culture on their kids choose markedly different approaches to the question of how the Christian faith should relate to the culture. It's not a hard and fast rule, but generally speaking, youth workers desire to equip their kids to engage the culture, while the parents desire to protect their kids from the culture by shielding them from the culture. To be fair, that's not what motivates all homeschool parents to homeschool their kids. But it is a motivation for many. Both sides (if I can reduce it to taking sides) are motivated by their love for God and their kids. In other words, the motivations of both are good.
Recently, my approach has been to encourage youth workers to always show grace, to endeavor to understand, to avoid undermining the authority of parents, and to encourage parents to take a more realistic and Biblical approach to matters of faith and culture. The night before his death on our behalf, Jesus prayed the will of the Father for his followers in all times and all places. . . that we would be in but not of the world. He prayed that we would endeavor to maintain a faithful redemptive presence as salt and light. His will was not that we would be out of and not of the world (John 17).
I've also encouraged youth workers to read and pass on a very helpful article to homeschool parents. It's from a respected homeschool advocate, Reb Bradley, who after homeschooling his kids, began to reevaluate the homeschool movement. And, in a noble way, he critiques the movement's liabilities and errors. In the article, "Solving the Crisis in Homeschooling: Exposing the 7 Major Blindspots of Homeschoolers," he writes. . . .
In the last couple of years, I have heard from multitudes of troubled homeschool parents around the country, a good many of whom were leaders. These parents have graduated their first batch of kids, only to discover that their children didn't turn out the way they thought they would. Many of these children were model homeschoolers while growing up, but sometime after their 18th birthday they began to reveal that they didn't hold to their parents' values.
Some of these young people grew up and left home in defiance of their parents. Others got married against their parents' wishes, and still others got involved with drugs, alcohol, and immorality. I have even heard of several exemplary young men who no longer even believe in God. My own adult children have gone through struggles I never guessed they would have faced. 
Most of these parents remain stunned by their children's choices, because they were fully confident their approach to parenting was going to prevent any such rebellion. Some were especially confident, because as teens these kids were only obedient.  Needless to say, the dreams of these homeschool parents have crashed, and many other parents want to know what they can do to prevent their own children from following the same course. (Read the rest of the article here).
Youth workers, your job is to come alongside parents and assist them as they engage in what's an incredibly daunting task. . . parenting kids in the 21st century. It's difficult. Support them. Encourage them. In addition, you must function with your entire church culture to equip the saints for the difficult work of living in but not of the world. For those parents who take a laissez-faire approach to parenting with no knowledge of how the culture shapes kids, the church must help them see their need to equip their kids for counter-cultural life in the world. And for those parents (homeschool or not) who take an escapist approach to parenting with no knowledge of how kids are to be equipped to live in and shape the culture, the church must help them see their need to equip their kids for counter-cultural life in the world. Reb Bradley's article is worth passing on. . . with humility. . . to this latter group.
(For more on a biblical approach to understanding the right relationship between faith and culture, you can check out my book Engaging the Soul of Youth Culture, where I've worked hard to offer easy-to-understand explanations of the various approaches to matters of faith and culture).