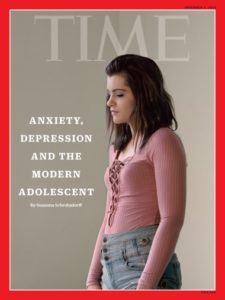 Last week Time Magazine put it all out there on their cover. They decided to address the very real, destructive, and sometime deadly problem of teen stress, anxiety, and depression. It's a big deal, for sure. Consequently, we need to be learning, discussing, preventing, and addressing the issue. What, if anything, are you already doing?
Shortly after encountering the Time story, I was reminded of the music video for the Twenty-One Pilots song, "Stressed Out." Because it's a great catalyst for popping the lid on discussions about stress and anxiety with kids, I decided to run it through our 3(D) media evaluation process we use and teach here at CPYU. Today, we posted our 3(D) discussion guide on "Stressed Out" and it's available as a free download. Give it a read and then use it with students, parents, youth ministry staff, etc. This is the kind of tool we love passing on to you all. And for you youth workers. . . this can form the content for this week's youth group meeting.
To learn more about how to teach our 3(D) media evaluation method to students, click here.
Download our free pdf 3(D) Review on "Stressed Out" by Twenty-One Pilots here.