Early this morning I was reading in the Gospel of Mark, Chapter 5, about a distraught father named Jairus. As I pondered his two-sentence urgency-filled request to Jesus I kept thinking about kids today. Jairus said to Jesus, "My little daughter is at the point of death. Come and lay your hands on her, so that she may be made well and live" (Mark 5:23). I can only imagine how desperate this father was.
In times of family crisis we get desperate, don't we? It could be a physical issue with our kids. Or a bad choice they've made. An incredibly difficult situation. I'm guessing we've all been there at some point. At those times we move outside of ourselves, fully aware of limitations, and driven to the realization that we've got nothing but the opportunity to depend on God.
But even more important that health, good decisions, and easy situations is the spiritual health of our kids. After all, that's not only the thing that matters the most, but the thing that has eternal significance. Nothing is more important. I clearly remember my own parents praying first and foremost for my spiritual well-being. There's no more important a prayer.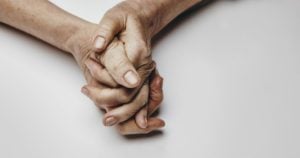 Above all other desires we might have for our kids, our greatest desire should be to see them flourish in their relationship with their Heavenly Father. While the cultural narrative works to convince us to push our kids to worldly success (piling up titles, trophies, and things), God calls us to help them find their peace, hope, identity, and redemption in Him. . . and in Him only. Do you desire more than anything else to see your children come to know and serve Jesus Christ?
Take some time to read about the urgent request a father made to Jesus on behalf of his dying daughter (Mark 5: 21-24). Jairus came to Jesus so desperate for help that he fell at Jesus' feet. Jairus had perspective. He knew that something was wrong with his daughter and that her very life was hanging in the balance. Jairus also knew that the power to fix his daughter was outside of himself. Only Jesus could change the situation. And Jairus knew that his only possible hope came through crying out to and pleading with Jesus to come and heal his daughter.
This story from the Gospel of Mark is about a parent's passion to save his beloved child from physical illness and death. The same Jesus who healed Jairus' physically sick daughter (Mark 5:35-43) is in the business of miraculously bringing life where there is spiritual death!  Perhaps the greatest and most persistent prayer we should be praying for our children is this: "My child is at the point of spiritual death. Come, Jesus, and lay your hands on him/her, so that he/she may be made well and live!"