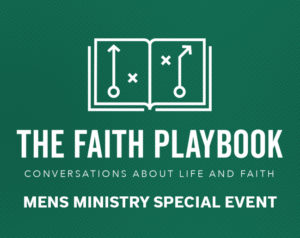 Last Friday night, a group of twenty-something guys challenged me deeply in my faith. I went to the Calvary Chapel in Philadelphia for the live Faith Playbook event. . . fully expecting to have some fun and learn a little bit more about the faith of several of our beloved Philadelphia Eagles players. My son-in-law. . . who went with me. . . and I both walked away realizing that we had just been a part of something very, very special. To be honest, I can't remember the last time I walked away from attending a conference or event where I was ministered to in such deep ways.
The Faith Playbook event was the brainchild of Paul Tripp, someone who has been ministering to me personally for years as a writer, teacher, and morning companion through his devotional book, New Morning Mercies. We've been recommending Paul's books on parenting for years through CPYU. I knew that if Paul Tripp was involved, this was going to be something that was deep and good.
The idea for the event was birthed long before the 2017 NFL season when Paul was eating dinner in a Philly restaurant. A couple of Eagles players came in and he watched as they prayed together over their meal. Impressed, Paul struck up a conversation, which in time led to his work with the large group of committed and eager-to-grow Christian men on the team. Desiring a platform to talk about the most important part of their lives, The Faith Playbook was born. In the in-between, the Eagles won the Super Bowl.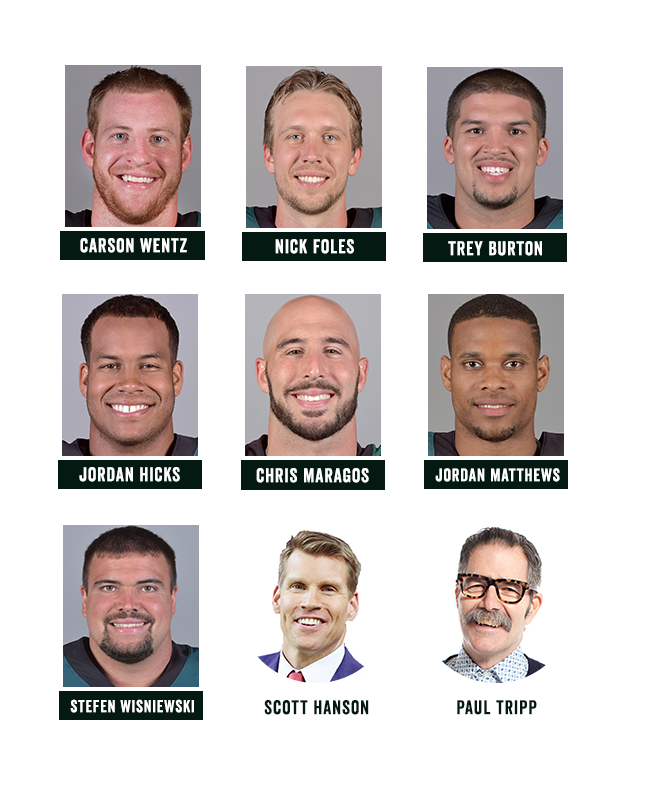 The evening was emceed by the NFL Network's Scott Hanson, whose own conversion story is amazing. When Paul Tripp stepped to the stage to conduct a series of interviews with several of the Eagles players, I knew that this wouldn't be the typical conversation about score-a-touchdown-take-a-knee-and-point-to-heaven kind of faith that lacks integration into all of life. I have the highest respect for Paul Tripp, his theology, and his understanding of what it means to follow Jesus as an image-bearer showered with mercy and grace.
Paul did not disappoint as he issued provocative questions to Nick Foles, Trey Burton, Jordan Hicks, Chris Maragos, Carson Wentz, Stefan Wisniewski, and Jordan Matthews. Their answers and interaction were evidence of a deeply integrated and growing faith. . . the kind of fruitful faith which indicates that a person is first and foremost a follower of Jesus. One's vocation then. . . in this case professional football. . . is a secondary pursuit. To a man, their integrity, depth, thoughtfulness, and spiritual maturity was typical of those who are older and wiser.
At the end of each interview (done in pairs and alone), Paul walked to the front of the stage to summarize theological truth in ways that personally and practially challenged the 2,000 men in the room and the tens of thousands of others who were watching the livestream. He walked us through the themes of the Grand Narrative. . . Creation, Fall, Redemption, and Restoration. It was beautifully done.
The evening included two other special moments. Retired Eagle David Akers surprised everyone with an appearance representing Compassion. I'm looking forward to hearing just how many children were sponsored. Then, the evening ended with all the players joining Tripp and Hanson on stage for some enjoyable banter and interaction with each other.
While I was laying in bed late Friday night I processed what had just happened for me. I'm a sixty-one year old man who has been in vocational ministry my entire adult life. But that never means that I should be satisfied with my faith and life. There's always so much more to learn. And learn I did. I walked away with a deep appreciation for God's grace. I saw deep-deep humility to a man. No boasting. No attitude. No arrogance. No entitlement. It was a beautiful thing. I was challenged to go deeper in the spiritual disciplines. And Paul Tripp's reminders of the majesty and glory of God made my heart leap.
Why am I sharing all of this? Nobody has asked me to. It's just one of those things that brings so much joy that you have to speak up about it. You want others to experience it. And while nobody has asked me to pass this on, I will. . . the livestream for The Faith Playbook event is available. I'm actually going to purchase the streaming license so that I can watch it all again. And, I'm going to have members of my family join me. It's that important.
If you're a youth worker, show The Faith Playbook event to your kids. If you're a parent, make an evening out of it. You will be encouraged.