I remember my pre-teen self feeling four news-induced punches to the gut during my "wonder years". Three were assassinations. The TV news bulletins (no Internet back then!) disrupted the normalcy of our days when JFK, RFK, and MLK were each gunned down unexpectedly. The fourth was something I learned about when I got to the school bus stop and Steve King told us the Beatles had broken up. That was on April 10, 1970.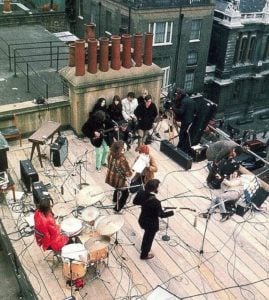 Stuff like that rattles and rocks a kid's life. That's why we all remember where we were and who we were with when we first heard the news. All this came to mind this morning when I read that it's been 50 years to the day since the Beatles last performed together. It was an impromptu 42-minute concert high up on a London rooftop. I went back and watched the video this morning. . . and it brought back memories of my own adolescence and the music that served as its' soundtrack. When they sang "Don't Let Me Down" (check it out below. . . ),  little did I know that the band would be letting me down by parting ways in just over a year. It wasn't so much that I had embraced the philosophy of the band, because I hadn't. Rather, they had become a familiar part of my childhood.
All of this caused me to go all introspective this morning. Fifty years. Wow. Seems like a flash. I remember that it was only the old people who thought time flies. Now, I know what they were talking about. James tells us that our lives are "like a mist that appears for a little time then vanishes" (James 4:14). The Psalmist asks God to "make me know my end and what is the measure of my days; let me know how fleeting I am!" (Psalm 39:4). In other places the Bible tells us that we are like a breath or a wind that passes away.
As I pondered that reality occasioned by today's hard-to-believe-it's-been-fifty-years anniversary, I also remembered the beauty of who God is and what He's given us in His Word. God is eternal and in control. And even though winds and breaths shift and come and go, "the word of the Lord remains forever" (I Peter 1:24). That's why we must never cease preaching the Gospel to ourselves and to our kids.