The fallout from our culture's growing reality of biblical illiteracy hit me hard when the day after Easter my daughter-in-law, an athletic trainer at a large suburban high school, shared with me a conversation she witnessed between a group of a dozen student athletes who were in the training room. Everyone was chatting about their Spring Break when one of the students asked, "What the heck is Passover and Easter about?? I know nothing." Multiple kids agreed that they didn't know the story, and some jokingly said, "I think it's something about Jesus. . . maybe his birthday."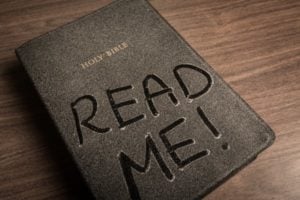 Back in 2016, the Barna Group found that only 3% of teens say they read the Bible every day. What can we do to assume our responsibility to nurture our kids in the faith by encouraging them to read the Bible?
First, we can provide an example through our own Bible reading. Of course, the ultimate motivation for our own Bible reading and study should be a growing desire to know God, and to know God's will and way. And the more we read, the more that desire will grow. Ultimately, our kids will not only witness the example of our own good habits, but they will see the fruit of Bible reading in our own transformed lives.
Second, we can engage in times of Bible reading together as a family . Some families choose to read a short passage of Scripture at the dinner table. Other parents will engage their kids with Scripture by offering nuggets of Scriptural truth during the course of everyday conversation occasioned by family matters, world events, or situations their kids are encountering with friends. Now that my own kids are young adults, I start and end each day with a group text message of a Bible verse or thought that has been personally helpful to me. Teachable moments come in many shapes and sizes, and we should seize them.
Third, we can provide thoughtful, faithful, and age-appropriate Bible reading guides and devotionals to our kids. The Jesus Storybook Bible and The Tiny Truths Illustrated Bible are especially good options for younger children. We can respect and encourage the intellectual capabilities of our teens by giving them some of the more accessible adult devotionals, including Timothy Keller's little book on Proverbs, God's Wisdom For Navigating Life.
Finally, teach them to engage with Scripture by praying these four prayers every time they read: "Lord, show me you. Show me me. Show me your plan for my life. Show me the enemy's schemes."
The Museum of the Bible in Washington, D.C. exists to invite people of all ages to engage with the Bible. Sadly, the fact that fewer and fewer families and kids are engaging with the Bible could create a situation where the Museum of the Bible becomes a place people might go to learn about a strange and unfamiliar book that once held a place of prominence in a bygone era. Let's make sure that's not the case.